I FELT a great pang of sadness as the Fianna Fáil faction in West Limerick announced their likely lads and lasses to contest Local Elections 2024 last week.
There they all were, Cllr Bridie Collins stepping out with Fianna Fáil young bloods Trina O'Dea and Ger Ward, ready to represent the Adare-Rathkeale Municipal District if they get the call next June, and if they haven't been chewed up by rabid pooches in the meantime!
But it was the absence of one larger than life character that really struck me. I'm talking the Cocaine Bear of council members.
The elder statesman of City Hall, the most lovable rogue of them all, the panto dame par excellence of the council chamber, Cllr Kevin Sheahan. The one, the only Kevin Sheahan will not be looking to kit out for the next term of Limerick City and County Council.
That's right folks, Sheahan is leaving the building. And do you know what? I'm going to miss him.
No-nonsense veracity
In a world where political correctness and watching your Ps and Qs are the new norm, the former mayor, with 39 years of service behind him representing the good people of Limerick, is a man of another time – and one of the last true great Fianna Fáil dinosaurs still clomping around the local authority buildings.
Never a man to mince his words, miss the opportunity to get up on his soapbox, or have a fit of the amateur dramatics, the Askeaton native was a different breed – as my young fella would say, 'he's just built different'.
A passionate, forthright, and playful character, one thing is for certain, council meetings will never be as theatrical, or go on as long into the night, in his absence.
A former Garda that always shot as straight as he talked, Kevin could ham it up to the nines while leaving you looking down two barrels of absolute no-nonsense veracity.
He was always a sincere sh*te-talker who wore his heart on his sleeve and was a credit to the dark arts practiced by Fianna Fáil since its very foundation back in 1926.
And, speaking of the dark arts, when Cllr Sheahan wasn't rubbing some of his heathen brethren in the council chambers up the wrong way by gifting the local authority with a giant crucifix, he could be found tussling with the very demons of heavy metal.
Too posh to mosh? Not at all! Shur, didn't Kevin, like any good dyed-in-the-wool Fianna Fáil man, love an auld boogie to Michael Jackson or Ennio Morricone after a feed of steak and pints.
But turn amps up to 11 and start playing those James Galway records backwards and he would be all over you like a demon dog in heat.
Who could forget that classic 'down with this sort of thing' moment back in 2019, when Cllr Sheahan called on then Justice Minister Charlie Flanagan to ban a Satanic death metal band, due to perform in Limerick, from entering the country. A right fire was lit under him altogether.
The godfather of the council raised alarm bells when Polish outfit Behemoth were due to perform at King John's Castle with Swedish metal act Amon Amarth. Having none of it, he was.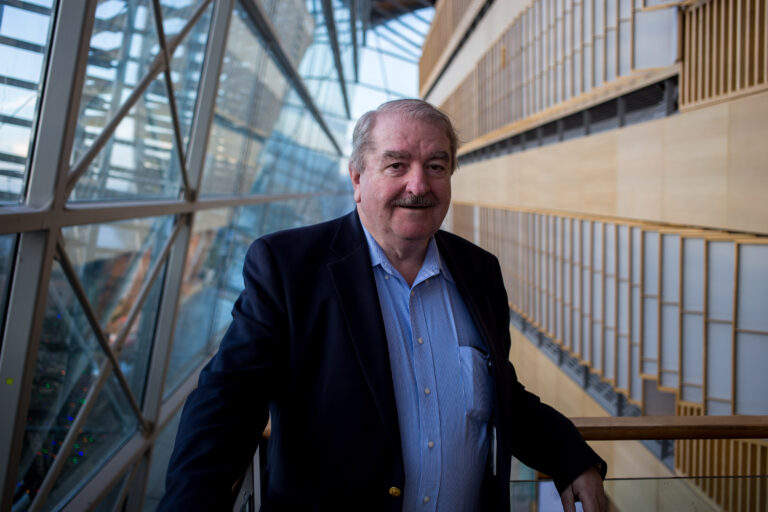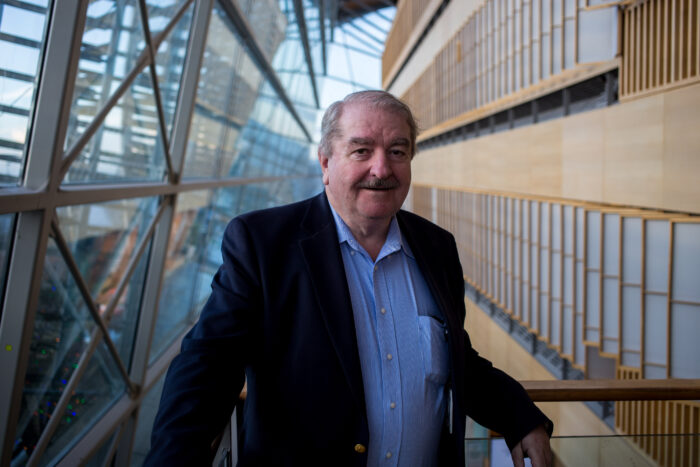 Sheahan advised people attending the heavy metal show to "seriously reconsider", telling the Limerick Post at the time that he considered Satanism "the enemy of all faiths".
"I wouldn't like to be involved in any aspect of Satanism. I would be concerned of something happening and not being aware of it," he shot out at the time with gusto.
"People need to be alerted that members of this cult are coming to Limerick. We have an ancient and very proud tradition in this city and I wouldn't be able to support any aspect of this event — it has a sense of revulsion running through me."
'Known as Ronald to his friends'
Still, Kevin, a man determined to make Askeaton great again, was no stranger to dabbling with dark forces himself. I mean, only months before the great thrash metal row, he himself called on the local authority to extend an invitation for US President Donald Trump to visit Limerick.
This larger than life character urged the council executive to act before President Trump announced an Irish visit and it turned into a competition with other local authorities.
"They say in Washington that Ronald Trump is likely to visit Ireland before the next election. We know he has property in Clare so he is likely to fly into Shannon. We should get ahead of the posse and get our invite out now.
"He is known as Donald to ye, but he is known as Ronald to his friends," Cllr Sheahan declared to confused faces.
The more unforgiving among us may remember Kevin's time as first mayor of the new local authority for taking up a disabled parking space outside County Hall. However, the former Garda, who provided protection for President Eamon De Valera in his day, was also of the view that good police work can include Gardaí "squaring" minor prosecutions for people they may depend on when investigating more serious crimes.
He told a Joint Policing Committee (JPC) meeting five years back that "squaring speeding cases is often done" to foster and maintain good relationships between Gardaí and the public.
Sheahan's views weren't always popular or politically correct, but they were his own, and you knew where you stood with him. It was far from sitting on fences he was raised. He always told it how he saw it, and there's not a lot of seasoned politicians you can say that about.
Of course the one thing he will be most remembered for in his 39-year reign is his sh*te talk. No seriously. When the people of Askeaton finally get a new sewage system, it will be Kevin Sheahan's tireless efforts they will have to thank for it. He is the man who clenched his cheeks the most to make it happen, and no doubt probably helped contribute to the town's need for such a plant to boot.
"If you make enough noise for long enough, someone will eventually sit up and take notice," Cllr Sheahan told members of the Adare-Rathkeale Municipal District back in 2019. This came after news that Irish Water were drafting up plans for the new sewage treatment plant.
The Fianna Fáil councillor, who had been campaigning for a new waste water treatment plant in his native Askeaton for over 30 years, maintained that all the hollering he has done on this issue had finally paid off.
"This is good news for Kevin Sheahan. Good news for the council. And good news for Askeaton," he declared gleefully.
What a legacy. The council chambers won't be the same without him.