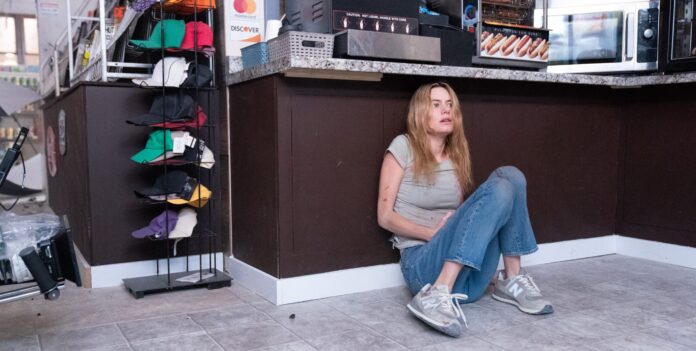 DIRECTOR Franck Khalfoun's remake of 2015 Spanish film Night of the Rat is a taut and suspenseful cat and mouse thriller with a social conscience.
New to Shudder, Night of the Hunted stars Camille Rowe as Alice, an unsuspecting woman who is targeted by a sadistic sniper at a remote gas station in the dead of night.
This single-location spectacle, which is on the same lines as Phone Booth, opens with Alice sleepily video chatting with her excited husband, home early for their morning appointment at a fertility clinic, as she readies herself in her hotel suite. Moments after she ends the call, her work colleague and lover John (Jeremy Scippio) steps into the scene as they try and shrug off sleep and guilty consciences.
Coffee and gas are needed for the long drive ahead, so the pair stop at a rural gas station, after taking her husband's advice of getting off at a certain exit.
Alice is soon woken up with a jolt on discovering that she's trapped at this lonely roadside truck stop and is now in a bid for survival as she's held hostage by a sadistic sniper with a secret agenda.
As well as dodging bullets flying out of the night sky and fighting for her life, she must also figure out who is trying to kill her and why.
The sociopathic sniper takes aim at her from a hillside billboard with a pessimistic message of its own, offering no escape in its 'God is Nowhere' homily. He clearly has an axe to grind with Alice and holds her responsible for many of the world's wrongs.
There is a good film in here somewhere but it gets lost towards the end in some rather heavy-handed dialogue about our post-Covid society and the prevailing anger and frustration felt by millions of ordinary people.
Khalfoun seems unsure how to bring proceedings to a satisfactory conclusion so instead opts for 'ready, aim, misfire'.
(3/5)