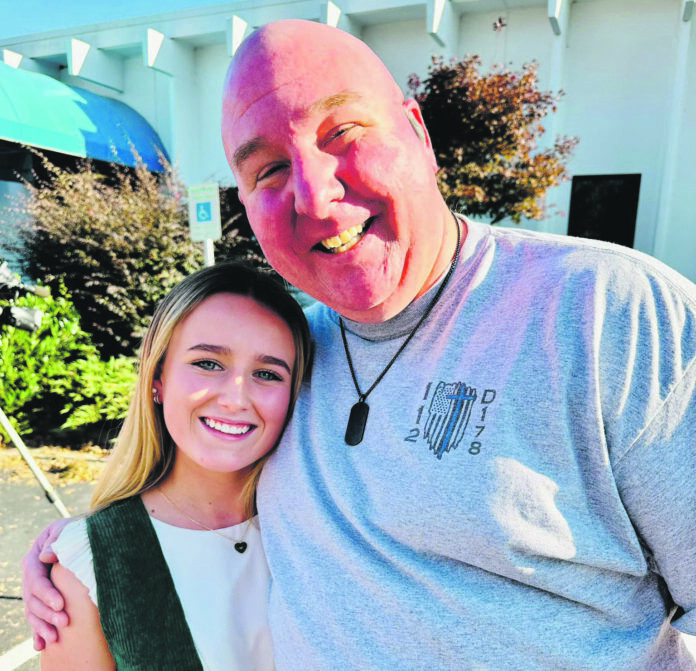 THE only potential silver lining for Sarah Corbett after her step-mother and step-grandfather were sent back to jail last week for murdering her father was that she finally met the policeman who shielded her from the horror of her father's blood-soaked body after he was bludgeoned to death in their family home in 2015.
Eight years on from the brutal killing of Janesboro man Jason Corbett, his second wife Molly Martens and father-in-law Tom Martens, who had initially served three years of 20 to 25-year sentences for his murder, accepted a state plea bargain to serve between seven and 30 months for his manslaughter.
In the aftermath of the new sentence passed on her father's killers, Sarah Corbett tweeted a photograph of her and policeman Clay Dagenhart, the US cop who "shielded" Sarah from the gruesome scene that was her father's final moments.
Tom Martens beat Mr Corbett to death with a baseball bat and his daughter Molly joined in, hammering Mr Corbett's skull with a concrete slab.
The Martens claimed they acted in self-defence, however courts heard there was no physical evidence to support this. Molly Martens attempted to drag Mr Corbett's name through the dirt later on, suggesting he had killed his first wife and mother of his two children, Mags Fitzpatrick, also despite there being no evidence to substantiate her claims.
Sarah, then aged 8, and her brother Jack, then aged 10, were asleep when their father was set upon by Molly and Tom Martens while he slept, prosecutors said.
Police who arrived at the death scene woke the children, who were unaware their father's life had been taken, and carried them out of the house and into protective custody.
After arriving home to Limerick in recent days, having sat through the Martens sentencing hearing in the US, Sarah Corbett had something positive to share with the world and tweeted a photo of herself and Officer Clay Dagenhart embracing.
"Finally got to meet and say thank you to this man who shielded me and carried me down the stairs that awful night. Clay Dagenhart," Sarah, now 17 years old, wrote online.
"Thank you to all who helped me, my brother, and Dad. #Hero," she added.
Jason Corbett's sister, Tracey Corbett Lynch, who fought the Martens for custody of Sarah and Jack and who spearheaded her family's campaign for justice for Jason, also thanked their supporters on Shannonside.
"Overflowing with profound gratitude upon our arrival, we found solace in immersing ourselves in heartfelt words of love and support, both written and spoken. These messages have been our guiding light during the most challenging moments. There truly is no place that can rival the warmth and comfort of home in beautiful Ireland," tweeted Ms Corbett Lynch.
Mr Corbett's first wife, Mags Fitzpatrick, died after suffering an asthma attack in 2006, the couple had been inseparable and Mr Corbett was devastated when she passed.
Ms Fitzpatrick's family issued a statement to the sentencing court that was read out by assistant district attorney Marissa Parker: "The last eight years since Jason was brutally murdered have been unimaginable. This week has been extremely hard for all of our family, especially Mags' mother, Marian."
"What the Martens claimed is totally inaccurate and untrue. Mags suffered with asthma all her life. She had a nebuliser in her home.
"Mags' sister Catherine was living with Jason and Mags and was present on the night she died. Jason woke Catherine and he called an ambulance and ran out to take her to the hospital. He revived her in the car. He did everything he could to save this person he adored.
"Mags was a great daughter, the rock in our family, a loving wife and mother. We miss Jason dearly. He was a part of our family and continued to be after Mags died.
"He was Mags's soul mate. All we want is peace and closure for Jack and Sarah. We want the world to know the depth of Mags and Jason's love.
"Nothing can tarnish the love between Mags and Jason," the Fitzpatrick family concluded.