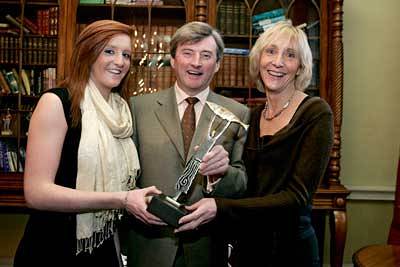 The Community Foundation for Ireland announces the winners of The Philanthropist of the Year Awards 2008 and Limerick man and Ralph Parkes landed the top title recently.
Our picture shows, the winner of the Philanthropist of the Year – localman, Ralph Parkes, together with his wife Maureen and daughter Nicole

Mr Parkes was recognised for the huge impact that his philanthropy has made in his local community of Limerick.  Pic:  Justin Mac Innes / Mac Innes Photography.
Mr. Parkes responded to a call made by the Mid West Spina Bifida and Hydrocephalus Association. 
Their dream was to have a fully accessible, purpose built, state-of the art centre for the organisation to provide their much needed services. 
Mr. Parkes spent five years ensuring this project was realised through financial backing, donating his time, expertise, and providing access to his business contacts. 
The organisation now operates what it regards as the finest facility in the Mid-West region.
The Community Foundation for Ireland's Philanthropist of the Year Awards recognise and honour those individuals who have shown exceptional generosity and commitment through direct financial support and engagement with charities and voluntary organisations both here in Ireland and abroad.