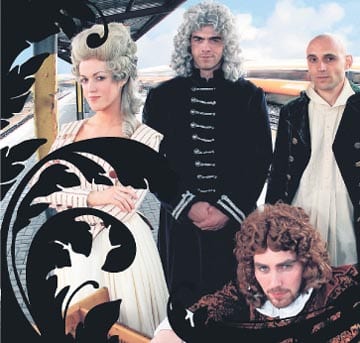 LIT Millennium Theatre welcomes Opera Theatre Company, staging the witty comedy opera Xerxes to mark Handel's 250th anniversary. OTC delighted Limerick audiences last year with its production of The Barber of Seville in March.
With its recognisable opening aria sung to a tree (Ombra mai fu)
and simmering with thwarted passions, Xerxes is arguably Handel's greatest opera. The plot concerns the attempts of King Xerxes to woo the beautiful Romilda, who is in love with his brother Arsamene. But there is trouble ahead as her manipulative little sister Atlanta has also set her sights on Arsamene.
Meanwhile, Xerxes' jilted fiancée Amastre stalks the scene, dressed as a man looking for opportunities to wreak her revenge.
Opera Theatre Company stages Xerxes as the opening opera in its Handel Trilogy 2009, commemorating the 250th anniversary of the  composer's death. Xerxes will be performed in Limerick for one night only at LIT Millennium Theatre on Saturday February 21 at 8pm.
Xerxes boasts a powerful cast that includes Irish mezzo-soprano Imelda Drumm, Natasha Jouhl, who performed in OTC's Orlando 2007; Rebekah Coffey (Hansel & Gretel 2007, Poppea 2006, Vera of Las Vegas 2004) and Brendan Collins (Fidelio & The Marriage of Figaro).
Sung in English, Xerxes is directed by Michael Moxham and music direction by Andrew Synnott. The captivating score is performed by Opera Theatre Company's ensemble, design is by Sarah Bacon and lighting design by Irish Times Theatre Awards 2009 nominee Kevin Treacy, from Limerick.
You can book online at www.litmt.ie  and box office, Moylish.