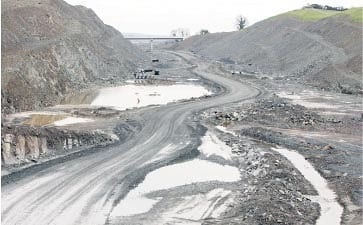 WORK on the euro 174 million Limerick to Nenagh N7 motorway has been delayed and the completion date may have to be revised.
The reality is that there is going to be a hold-up, but to what extent officials cannot say.
It is understood that the contractors are experiencing difficulties as part of the road has to go through a deep and wet bog.
The road will travel over bog between Lisnagry and Birdhill and will run close to Birdhill national school and Ballinahinch village with a viaduct crossing the Kilmastulla river and Limerick to Ballybrophy railway line at Killalane, Ballinahinch, before crossing the existing Limerick to Nenagh road at Ballywilliam.
The scheduled date for completion of the project is May 22, and Limerick County Council Project Liaison Officer John O'Brien, told The Post that the programme is currently behind schedule.
He continued: "it's our wish that the project is completed, but circumstances are changing".
He stressed that the hold-up has nothing to do with finances from a Limerick County Council perspective.
The NRA and the Council are closely monitoring progress on the project which is being undertaken by Bothar Hibernian as the construction company and RPS Scetaroute JV are the engineers, and are also monitoring the work.
On completion of the new motorway, the existing Limerick to Nenagh N7 will be downgraded to a regional road. The motorway involves 28 kilometres of dual carriageway between Annacotty and the Five Alleys with a single carriageway link to the main road at Birdhill, and the upgrading of 10 kilometres of the Nenagh bypass to a dual carriageway.
The road will link the Limerick Southern Ring Road with the existing Nenagh bypass. There will be interchanges on the route at Annacotty, Birdhill, Carrigatoher and linking the Nenagh to Thurles road to the motorway.