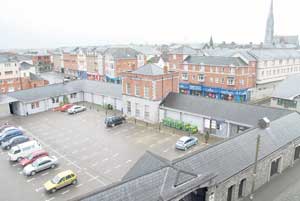 THE Milk Market, a 157-year-old local landmark, is to undergo a multi-million euro weatherproofed refurbishment, following the green light from An Bord Pleanala.
Work is to get underway in a matter of weeks.
David O'Mahony, chairman of the Limerick Market Trustees, revealed that the Milk Market will undergo a complete refurbishment that will "transform it into a vibrant, enlarged week-long market venue that will be weatherproofed, and will attract more shoppers and visitors into the heart of the city".
Mr O'Mahony emphasises that the project will quickly move to implementation once the tendering process is complete.
"In advancing our plans, we are conscious that we are the guardians of a unique and historic market which dates back to 1852, and our plan will fully protect the integrity of the market and will make it a landmark city attraction," said Mr O'Mahony.
He further confirmed that the redevelopment will provide opportunities for additional small traders to showcase and sell diverse local produce, from fresh and fine foods to horticultural produce, crafts and unique fashion wear.  
The redevelopment will include a tensile structure covering the market courtyard in a way that creates an 'outdoor' feel, while protecting visitors from the elements, and will also include a mezzanine floor which will extend from the existing Market House and will accommodate a restaurant overlooking the market.
Beneath this will be a number of permanent trading outlets that will typically sell speciality foods and beverages, in keeping with the markets' ethos.
"We will also be promoting the market as a venue for a range of special events, complementary to the market, to add to its overall appeal and to the contribution the market will make to the city", concluded Mr O'Mahony.
Further details of the opportunities the market will present to specialist retailers, producers, event organisers and others will be forthcoming shortly.