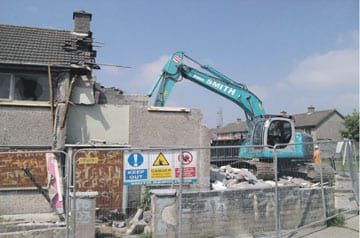 Less than half of 601 houses left standing
THE latest phase of demolition in O'Malley Park has been welcomed by residents, who, at various times, expressed concern at the almost endless anti-social behaviour and criminality in and around derelict houses.
Three more houses were levelled in Valley View, O'Malley Park, last week, which has resulted in less than half of the estates 601 houses still standing.
Community worker Mary Higgins, told the Limerick Post: "We are glad that the ugliness of boarded up and abandoned houses is now out of sight… they were attracting anti-social behaviour".
 The derelict houses had been targeted by criminal gangs.
A nearby resident claimed that they had the windows in their home recently smashed.
Proposals are now in place to knock a further three or four houses in Castleoaks.
Mary added: "These boarded up houses can also be a target for illegal dumping".
According to her, residents are now taking more pride in their homes, and the properties which were bulldozed have allowed for the opening up up some beautiful views of Limerick city and county to residents.
However, some remain concerned that their homes will be more exposed to the threat of anti-social behaviour.
Allegedly, another derelict house close by is being targeted by criminal elements.
Of the four estates in Southill; O'Malley Park, Keyes Park, Kincora Park and Carew Park, there are 793 occupied houses, 457 are privately owned and 336 are the property of Limerick City Council.
As an excavator tore down the  block of houses in Valley View, children played rugby on the green and residents sat out in deckchairs in the sunshine.
This is contrast to few nights earlier when a stolen car was burned out at the bottom of the hill after the joyrider's access to the estate's green areas was blocked by rock armour.