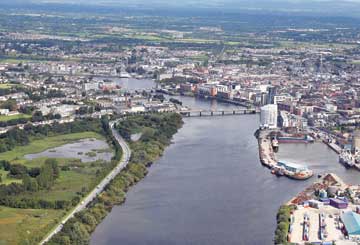 *Long campaign finally comes to fruition
THE unveiling of the long-awaited Dockers Monument this Friday will have special significance for Thomondgate's Paddy O'Halloran in that four generations of his family toiled at the port.
Paddy spoke of his delight and pride that City Council committed to undertaking the project.
Speaking at his home, evidence of his time as a docker is depicted in the pictures of ships and boats, ship's wheel, seamen's paraphernalia etc., that adorn his sitting room.
As a youngster, Paddy joined the ranks of dockers, among whom his father, uncles, grandfather, great-grandfather had toiled in the harsh working conditions, from clocking in  time to end of day, a time, he said, when "sick pay, holiday money, health and safety and coffee breaks were unheard.
"It was hard, very hard work, but I loved it and was proud to have got to know the dockers who went before me – they were great men and despite the hardship, I was proud to work in Limerick Docks. I got to know the horse and cart men, the union men, the harbour workers and the seamen.
"Certainly tragic things happened – men were injured, some lost their lives –  I myself had an accident but how could I take time off – I had a wife and children to feed and support, so you just got on with it".
Paddy always felt there should be an appropriate sculpture or monument erected to commemorate the memory of extremely hardworking men, without whom the trade, commerce and business transactions that were part and parcel of Limerick Docks, could not have successfully functioned.
"It was a hive of activity in my time – goods of all kinds – timber, coal, slack, fertiliser, tea, wool, jute bags of glue, going in and out of the port, as well as boats from all over the world berthing there. There was Ranks Mills, which had its own ships, McMahon's Timber Yard and the Wire Factory".
Recalling the harsh winters, Paddy said the best mug of hot tea on freezing snowy mornings was supplied by Mr and Mrs Rice who ran a tea shop close to the quayside, near where the skateboard park is now.
Asked how and when he commenced his efforts to arouse interest in getting a Dockers' Monument erected, Paddy replied it was the support and encouragement from Cllr Jim Long and Cllr Kevin Kiely  that focused his efforts.
"When I approached them, both were supportive and it was Jim who came up with the idea of forming a committee to get the project going.
"I want to put it on record that we got nothing but support from the city council -I want to say thank you to the city manager, Tom Mackey, the sculptor, Michael Duhan, directors of services, Kieran Lehane and Pat Dowling, the city arts officer, Sheila Deegan and Mike Fitzpatrick, director of the School of Art and Design. In my opinion, it is the Shannon Foynes Port Company that should be erecting a monument to the Dockers but everyone knows  that they donated a miserable €1,000, which then mayor John Gilligan, described as an insult, and which, I heard was returned to the port company".
Former dockers, their families and descendants are invited to the official unveiling of the monument by Mayor Kiely on Friday, June 18  when they will be presented with booklets detailing the history of Limerick Docks and the dockers.
"It will be a wonderful day that will mean an awful lot to all of us, and I'm proud to have played a part in getting the monument erected on the quayside".