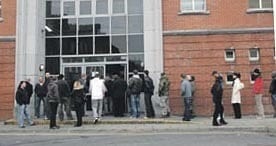 by Kathy Masterson
kathy@limerickpost.ie
AREA profiles of Limerick's towns compiled by figures from the 2011 census show the huge variation in unemployment figures across the city and county.
The profiles, which are available on an online Central Statistics Office database, show that Limerick's unemployment figures vary wildly from just nine per cent in Annacotty to 38.7 per cent in Rathkeale.
The majority of the county's towns reported unemployment figures higher than the national average of 19 per cent, including Abbeyfeale at 32.3 per cent, Askeaton at 35.4 per cent and Croom at 31.6 per cent.
Limerick City and surrounding suburbs recorded a figure of 23.8 per cent.
The CSO area profiles provide statistics from every county, Dáil constituency and all towns with a population over 1,000.
The statistics include age profiles of each area, as well as living arrangements, health, religion, education and internet access.
Limerick City's area profile recorded a population of 57,106, with a higher-than-average percentage of people in the 20-24 age bracket, possibly due to Limerick's large student population.
The number of one person households, 6,479, also exceeded the state average at 29 per cent, compared to 23.7 per cent of households nationwide.
In April 2011, the city was home to 5,523 couples with children, which at 24.7 per cent was over ten per cent lower than the national average.
A total of 39 per cent of those aged over 15 in the city were married, compared to the national average of 47 per cent.
Over half of all commutes, at 54.3 per cent were by car, while just 893 people commuted using public transport.
Meanwhile, County Limerick recorded a population of 134,703 with a slightly higher-than-average percentage of couples with children at 38.4 per cent.
Non-Irish nationals accounted for 8.7 per cent of the population, compared with the national average of 12 per cent and Limerick City's figure of 12.1 per cent.
Limerick County registered an unemployment rate of 17.5 per cent, just slightly lower than the national average of 19 per cent.
Over 69 per cent of journeys to work were by car, while just 677 commuters used public transport; a fifth of County Limerick's workers faced a commuting time in excess of 30 minutes.