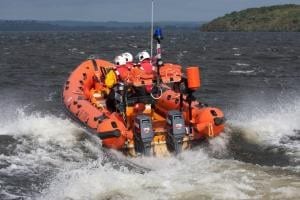 Lough Derg was at the centre of two major rescue and recovery operations in less than 24 hours when 22 schoolchildren got into difficulties while kayaking this morning after a group of international rowers had to be taken off the lake last night.
The Valentia coastguard station was alerted at around 10.30 this morning when a change in weather conditions raised concerns about the safety of the children who are members of a Cub Scout troop aged between eight and ten years.
They were being supervised by two safety boats which eventually guiding them ashore. They were not thought to be far from land when the weather closed in.
The Killaloe life boat was dispatched but was almost immediately stood down when it became clear the situation was under control. The Shannon based rescue helicopter was also primed to respond but was not required.
It follows yesterday evening's incident when 35 people were rescued after as many as eight rowing boats capsized during an international event.
The sailors who were taking part in the week-long FISA World Tour hosted by Limerick's St Michael's Rowing Club departed Terrryglass yesterday morning and ran into difficulty late afternoon due to deteriorating weather conditions.
The alarm was raised at around 6.00pm when it was reported that four shore sailing boats had run aground. There was considerable confusion about how many persons may have been missing and a major search and rescue operation was mounted.
Some boats were swamped, some managed to beach at various points around Crow's island, but one boat with five crew on board was missing for several hours before it was located on the island and gardaí confirmed that all were safe.
The Killaloe unit of the Irish Coast Guard and the RNLI Lough Derg lifeboat was quickly scrambled. Gardaí and the ambulance service were alerted while units of the fire brigade from Killaloe and Scarriff were also mobilised to assist the ambulance service. Four ambulances, three rapid response advanced paramedic units and a consultant from the Mid Western Regional Hospital in Limerick attended the incident.
35 people were taken ashore at the University of Limerick Activity Centre atTwomilegate where they were assessed and treated by paramedics.
Those who had been treated were allowed return to their bus once it was confirmed they required no further attention. 15 people in all were treated for hypothermia but no one required hospital treatment.