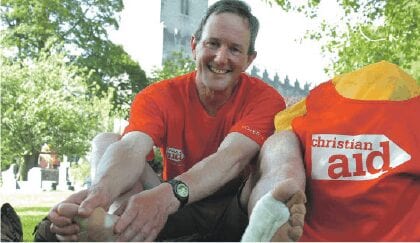 by Rose Rushe
"LIKE walking on hot coals," was how Christian Aid's Adrian Horsman described his 200 mile walk from Belfast to Limerick.
Leaving St Anne's Cathedral in the north on June 29, he arrived in Limerick on a hot July 5 night to be met by "a small procession" including his Tipperary-based father, Christopher Horsman and his stepmother.
Christian Aid colleague Alix Tiernan had joined him first at Ardnacrusha canal and Dean of Limerick, Very Rvd Sandra Pragnell walked with the group from Corbally to end point, St Mary's Cathedral.
"It was quite emotional, for me. I was really in a lot of pain for the last couple of days and it has been a struggle since Nenagh," admitted this Christian soldier.
Adrian, a former BBC and TV3 journalist, is head of media with the overseas aid agency and so far has raised almost €1,000 for children in Africa and for refugees from Syria.
Of his nine days walking 25 to 30 miles daily carrying, for the most part, a 1st 9lb backpack, he says of the rigours: "I always had the option of giving up but those people with whom Christian Aid works do not. Not the children who walk for miles every day to carry water, and so miss schooling as well. Not the refugees staying in camps in countries around Syria's border."
The small town of Clara in Offaly proved a turning point in a tri-fold experience.
"I was almost broken when I arrived. I really did not think I could finish the walk. Then a pharmacist who used to be a marathon runner gave me new burns dressings which were great. I got a new pair of walking shoes for €30 that were a size bigger which helped, being big enough to accommodate the blisters, their dressings and socks."
A kind landlady kept half the backpack load and "against my expectation, I was able to leave Clara on foot."
Adrian describes his journey as "a tour of Irish pharmacies" because his injuries required constant attention, despite a preparation schedule that saw him lose three stone over a year.
Home and happy now, he can reflect: "There were times when I really thought that I was not going to make it but my understanding of what the people with whom we work in Christian Aid is now so much stronger."
Donations can still be made at www.mycharity.ie/event/adrian_horsmans-event/