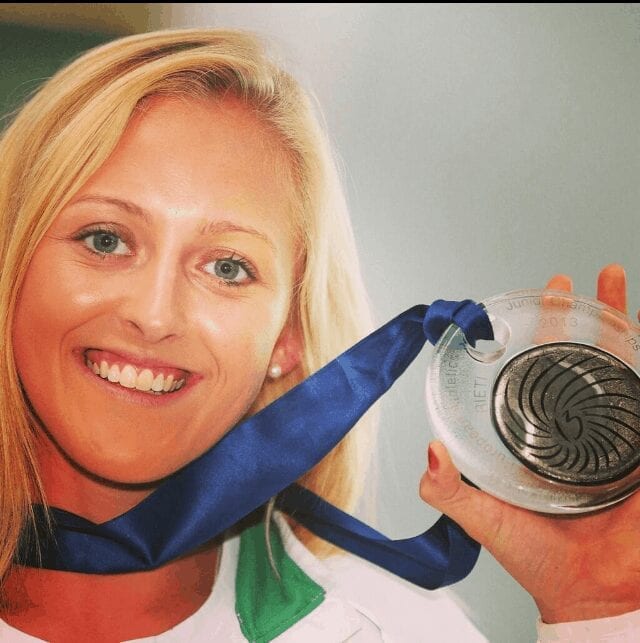 LIMERICK'S Sarah Lavin collected a silver medal in the Women's 100m Hurdles, setting a new national junior record of 13.34 seconds, at the European Athletics Junior Championships in Rieti, Italy last weekend.
The 19-year-old Emerald AC former sprinter has been in tremendous form this season after posting her previous best 13.36 in Cork City Games earlier this year.
Speaking to Limerick Post this week, Sarah spoke of how her form before last week's race suggested a medal might be on the cards.
"The build up has been tough going. First of all we had the indoor season and the indoor was in February and that was 60m hurdles but 60m and 100m hurdles is a big difference. It's five hurdles in the indoors and 10 in the outdoors so you need that extra speed. I opened up in April then for the outdoor season and it opened up in Cork. The weather conditions weren't conducive so we had to go out and leave the country. We headed off to Spain in May and then led into Geneva and Mannheim. I had wins in all three of those leading up to it which was important"
Wins in Mannheim, Cork and Geneva gave Lavin the confidence to compete at the highest level.
"The preparation before this was like 'I could run faster' and I'd only ever done it in one race so I said to myself 'You're going to have three rounds and you definitely have to put three races back to back'. Two weeks ago on a Saturday I was in Mannheim for the junior gala which is basically the best juniors from all over the world. Australia and New Zealand come to this and only six people make the final. It's really hard because there's an A and B final and it's really difficult to even get into the A final. I ended up winning over there so it was just a huge boost. It was something like two runs in the space of an hour. That's tough going and it's a lot tougher than what it would be in a championship because then you have a morning and an evening session. I came back that night and I ran at the national juniors the following day in the 100m hurdles. On the Tuesday I ran in Cork City Sports event and I actually ran a PB there in 15:36, into a negative head wind, so that was probably my best run of the year so far. I knew I was in a really good place because I produced my fastest run on my fourth race in four days."
Winning at events around Europe has brought it's own pressure for Sarah. Now seen by many as a medalist in all her races.
"There was a tremendous amount of pressure on me. I kept  listening to the commentary in Italy and they were saying  'Sarah Lavin is Ireland's medal hopeful'. There was a huge amount of pressure going in and I think it's just Irish people in general. They get excited and they can get a bit carried away when they see a favourite in the mix!"
Last weekend's silver medal in Rieti was proof once more that Lavin is becoming more comfortable at a higher level.
"I went in second in the placings for the final and the Swiss girl was 0.32 ahead of me on PB so she was in a huge lead and that means she's qualified for the world championships in August. She was a hot favourite and even at under 23 she's number one in the world at the moment and going in with her she was 0.3 ahead of me. Then I finished 0.17 behind her so that was good. I didn't have any race where I was completely satisfied, though. I got into the final and when I got to the first hurdle I was the first to arrive. I think I was sixth or seventh down off it. I don't really know what happened. I just didn't get down off it. I think I might have just got a fright when there was no-one beside me"
The ability to race with her peers, now that Lavin is a full time athlete, has aided her mental toughness. Something she believes might not have been achievable if she could only race in Ireland.
"That's actually something I found with the junior championships in Ireland. If I get to the first hurdle and I have a bad hurdle, so what, there's no high pressure, but I was playing catch-up the whole way down the track last weekend and I really wish I had nailed that first hurdle. The girl from Switzerland was something else. She went in as a huge favourite but I think if I got that bit closer and not let her get away, she might have come under a bit of pressure and then anything could happen. It's such a technical event that anyone could just fall through."
If you google Sarah Lavin you will see several pics of here hurdling. There is one pic however that shows her on the floor after a fall at a meet in Barcelona last year. To go from crashing out, to a silver medal, shows the mental fortitude that this former sprinter turned hurdler possesses.
"What happened in Barcelona, I just wasn't used to the high pressure and just getting that experience. I didn't have anyone beside me in the race. I didn't have that experience of racing, basically. I've been really lucky to get to all these meets abroad and to be racing against these people regularly so that just automatically makes you able to handle the high pressure situations a bit more. I just didn't get very much leg-up in Barcelona last year and I was on the ground. One lapse of concentration and that's it, you're gone and it was a year down the drain."
So what next for Sarah?
"I am going to compete at the national seniors this weekend. I'm not sure if Derval O'Rourke is racing but it will be interesting if she does and, in the long-term, next year I hope to make the European senior championships because you're left wide open when you're under 23. Youth is under 18 and junior is under 20, then it's under 23 and senior. There's a stepping stone before you make it. There's no under 23 or universities or anything so it's just wide open going up to senior and that will be interesting. I just want to make the team for the European Championships."
The target of making the Senior European Team is not out of her sight just yet.
"I'd have to run 13.4 to make it. People were running that in the Olympics last year and that's fine but would it make into the semi-final of the Olympics? Probably not, so next year my aim is definitely to run 13.1, 13 flat even. That would set me up nicely and it would actually be the B standard for Rio but I just need to produce that again. In 2015 it's going to be the year for national under 23s and in 2016 hopefully I'll be on the plane to Rio."
The long term plan might still be Rio, but how does Lavin prepare for the short term between now and 2015?
"I have to submit plans every year, what am I doing every year, especially because some athletes' events change. I had always been a sprinter and then I changed to hurdles so you have to let them know what direction you're going in and all the rest with regards to funding and everything. After that they know what you're up to so that's been set in stone. I have to stick to that and it's just about hopefully getting in the qualifying time in 2015. The ages of 26 to 28 is where you peak for the hurdles. It's a lot older than the 100m and 200m, who peak at 21 or 22, but the average age of an Olympic hurdles champion is 26. I don't believe I can make the podium in Rio but hopefully in 2020, whoever gets the Games, that's obviously the main aim.
For the last six months Lavin has been a full time athlete, however this September she will be  heading to UCD to do physiotherapy. The drive for success will only be fueled by here environment at UCD and Irishtown. The dream to reach Rio and to emulate her idol, Derval O'Rourke, is what drives Lavin to succeed.
"Irish-wise obviously Derval is my idol. You can't but say that. She's really turned it around. I almost stalked Derval in training when she used to be in UL! I'd be waiting for her and even my Dad would be more excited the first time he saw her. She would be putting us off and saying 'I'll come over to you once I've finished my session!' We would be just completely over-enthusiastic and she's been a huge mentor as well. She's always in touch and she's so positive, saying that we have to use a special track, go for it and all the rest, so she's been great. Outside of that, it's good to see Sally Pearson at the moment up there challenging the best in the world as an Olympic champion, but Derval is my idol"