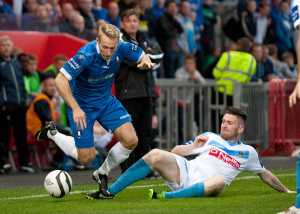 ATTENTION turns to the FAI Cup for Limerick FC this weekend as they make the trip to Oriel Park on Friday 23 to face high-flying Dundalk in the third round of the competition.
With a mid-table league finish the most likely outcome for the Super Blues, they will view the cup as a genuine opportunity to gather momentum in the closing weeks of the season.
Stuart Taylor's men also have a good record against Dundalk in 2013, having held the Louth club to a 2-2 draw at Oriel Park in April before a thrilling 3-2 victory at Thomond Park in June.
However, the Lilywhites are in imperious form and a 2-0 defeat of champions Sligo Rovers last week has Stephen Kenny's side in real contention for the league title.
Taylor does not think that Dundalk will ease off for the cup fixture, believing that they will have a score to settle due to their failure to beat Limerick in their two previous meetings.
When asked if Dundalk might take their eye off the prize, the Limerick manager said: "I don't think that at all because I think the mentality they've got up there is that they must win every game, like what we're trying to have down here.
"I think a lot of luck went their way this season as well. I've had a lot of match reports done on them and lady luck has a big factor in football. It's a big factor in anything in life, but you work hard to get your own luck. They will not take their eye off the ball, I can guarantee that. They've not beaten us this season and that will be one huge motivational factor for them. The other motivational factor is that we don't let them beat us this season so it will be an interesting game."
The artificial surface at Oriel Park has come in for some criticism this season, but Taylor refused to let that come into the equation ahead of the game.
"The pitch is the way the pitch is. They've got more experience of playing on it but my players don't look for excuses. They're very professional in how they go about their jobs and they will not look at that as an excuse.
"We went up there and there were certain parts of the pitch that were more watered, which would suit how we're going to play. That's part of tactics in football as well. You make sure that you put out the best scenario for your team to do well and put out a scenario where the other team does not do so well.
"We'll go up there on Friday night and we know what type of game it's going to be. It's going to be a really high tempo, intense game and it's going to be a difficult game. It's going to be one of the hardest games this season."
In contrast to Dundalk's superb league form, Limerick go into the third round clash on the back of a calamitous 3-1 home defeat to UCD last Friday.
They got off to the perfect start with Craig Curran converting a second-minute penalty, but goals from Dean Clarke and David O'Connor gave the visitors a half-time lead. Cillian Morrison sealed the win for UCD late on and Limerick's misery was compounded when Shaun Kelly was sent off in stoppage time.
Taylor conceded that it was a damaging result and was once more left defending his players for costly individual errors. He also put Kelly's late red card down to frustration on the player's part, saying that the defender needs to learn from his actions.
"It was disappointing. It didn't go the way we planned it to go and we didn't do enough to win the game. We had a decent enough start and after that we played some nice, intricate stuff in spells but not long enough spells, and at times we left ourselves open to being hit on the counter. In the second half I felt we started well and we were dominant, and again we left ourselves open, but again it's mistakes that we need to learn from.
"We've got an extremely young back four and young players are going to make mistakes. You say it's not the mistakes you make, it's how you learn from them. When you've got young players they're going to make mistakes. You've got to stick by them and I will stick by them. I think they're all progressing well. Playing all these young players is good for the future of the club and that's the most important thing, the future of the club.
"I think there was a bit of frustration [with Kelly]. There was a clash and maybe he was a bit frustrated with the tackle that happened before on Patrick. That was a terrible lunge but you can't let that affect your next decision. He needs to be a bit clearer in his head and not get involved in things. I think a little bit of frustration has boiled over."