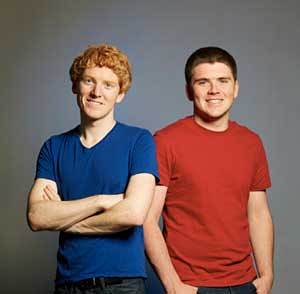 LIMERICK brothers Patrick and John Collison have no plans to cash in on the success of their €1.3 billion company and will use a €60 million round of fresh investment raised this week to fund international expansion.
From Castletroy and now based in California, the Collisons created Stripe, a low-cost way for small companies to accept online payments, in 2009 and have been steadily building the business since.
John (23) and Patrick (25), a former winner of the Young Scientist competition, created an online auction payments company, Auctomatic, which was sold for almost €4 million while they were still in secondary school at Castletroy College.
Their latest success story began when they saw how difficult it was for small companies to accept payments from customers online.
"We found it really hard in our previous business to accept payment over the internet. It felt like many other people would be having the same problem, so we set about solving it", explained John.
"We started working on Stripe almost two years before it launched publicly. There was a long period where we were writing code to support a small handful of users, and navigating a relatively unfamiliar industry.
"We wrote the first lines of code in October 2009. Three months later, we got our first customer. We stayed going, writing code, starting to hire people and trying to find new customers. By the time we launched publicly in September 2011, we had ten people on the team."
Stripe now employs 83 people at its headquarters in San Francisco and the company has become a recognisable name in global ecommerce, with backers such as Paypal founder Peter Thiel and entrepreneur Elon Musk numbered among its investors.
Social media giant Twitter is reportedly in discussions with the company over a deal that would allow Twitter enable companies to accept payments on the social media platform.
However, Chief executive, Patrick Collison says that they won't be in a rush to take advantage of the company's latest valuation.
"We've no interest in selling the company. John and I are very lucky to work with the people we do on building something for the long term, and we wouldn't like to change that," he said.
This is also the view of his younger brother who said they were focused on opening international offices and delivering on Stripe's goal of building an easier way of paying for goods and services online.
"It's still early days for the payment systems that power the internet. It's outrageously difficult and expensive to move money between countries.
"Fraud and storing credentials still cause merchants hassle. So online payments is a great place to go hunting for problems worth solving", said John.