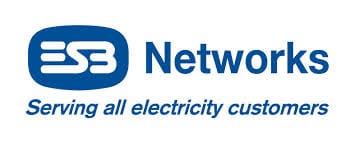 ESB Networks are continuing to work through the driving rain and difficult conditions to make safe and repair the damage caused by yesterday's hurricane winds, some of the highest on record in Ireland. Since the peak of the storm, power has been restored to over 95,000 customers. At lunchtime today almost 165,000 customers remain without supply, with over 5,500 faults on the network identified.
Over 2,000 ESB Networks staff from all around the country, supplemented by staff from NIE & contractors are all mobilised to the effected areas in Kerry, Cork, Limerick, Tipperary, Wexford, Wexford, Waterford, Limerick, Clare, Laois.
Since early this morning Assessors & helicopter patrols have been reviewing the extent of damage and the deployment of resources is being arranged. Later today ESB Networks will  have more detailed  information on how long it will take to carry out the restoration and where necessary give customers the information to make alternative arrangements. ESB Networks confirm at this point that the damage is extensive and it will be days by the time some customers will have power restored.  After dangerous faults are made safe, efforts will be focused on getting faults repaired that will restore supply to the larger number of homes and businesses. Customers affected by isolated faults could be without supply for two or more days.
Many new dangerous situations are still being reported.  If customers have information on faulted network, which may causing  to the public, please  contact  1850 372 999; Information on damage to network can also be logged on website: www.updatesfromesb.com/report-damage-to-esb-networks
ESB Networks sincerely apologies for the inconvenience this is already causing customers and they can be sure that every effort will be made to minimize the duration of the power outage.
Though supply has been restored to over 95,000 customers, the following is the breakdown of where locations that still have large numbers without supply:
| | |
| --- | --- |
| Bandon, | 10,000 |
| Fermoy, | 14,000 |
| Killarney, | 11,000 |
| Dunmanway, | 18,500 |
| Cork City, | 3,000 |
| Portlaoise/Kilkenny, | 7,500 |
| Clonmel | 7,500 |
| Waterford, | 7,500 |
| Newcastlewest, | 1,200 |
| Tralee, | 1,400 |
| Thurles, | 2,000 |
| Roscrea, | 5,500 |
| Ennis, | 8,000 |
| Limerick, | 7,500 |
| Enniscorthy, | 21,000 |
Customers who are without power are asked to first check ESB Network Powercheck app, http://www.esbpowercheck.ie, to see if their outage has been identified and logged, before calling the call centre. Our twitter feed @ESBNetworks which will be supplied with live up to date information as it is received. In addition ESB Networks has asked that customers listen to their radios for regular updates.
Customers are asked to take the following advice:
ESB Networks has asked that only customers who are able to report the location of damage to the electricity network should call on 1850 372 999. If customers reporting network damage are not answered by a call handler due to call volumes there will be a facility to leave a message.
Due to the high number of individual faults on the network, the estimated restoration times shown on PowerCheck are tentative until the full extent of the damage can be assessed.
ESB Networks reminds customers not to approach any broken lines or damaged poles and to keep children and animals away. Any fallen wires or emergency situations should be reported immediately to ESB Networks at 1850 372 999.
When contacting the National Customer Care Centre, please your Meter Point Reference Number (MPRN) ready (you will find this on your electricity bill from your sulier.
Never approach broken lines or damaged poles, and keep children and animals away – report damage to ESB Networks on 1850 372 999 and listen to recorded messages carefully
If you are using a generator, be careful where you site it in case of carbon monoxide poisoning
Turn off electric cookers, ovens, irons, etc. if electricity supply is lost