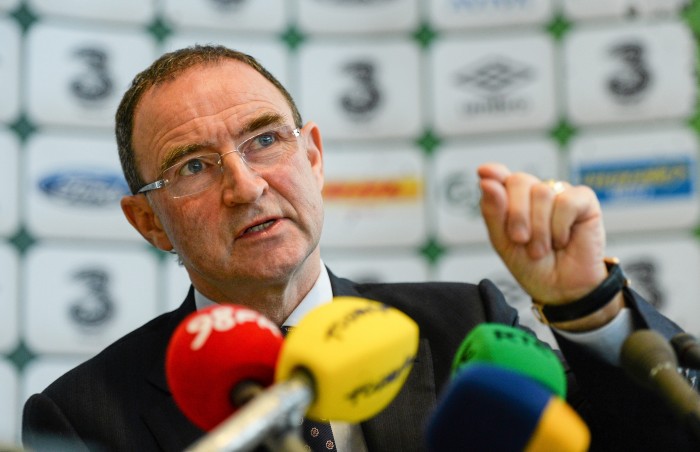 SPEAKING to the media at a press conference in Limerick this morning, Republic of Ireland manager Martin O'Neill is keeping his options open regarding the selection of players for future squads. O'Neill announced a 29-man squad at County Hall in Dooradoyle, with record goalscorer Robbie Keane not included.
While the provisional squad has not changed dramatically from recent selections, the Ulsterman told journalists that he is keeping a close watch on a number of players who weren't selected for the upcoming friendly against Serbia.
Keane might not be among the attacking options for the March 5 international, but Daryl Murphy, Kevin Doyle and Anthony Stokes are all included in the squad.
O'Neill is well aware of those players' recent exploits, saying: "I've watched these games. I went to Ipswich on Saturday. I thought Murphy played very well indeed. I've spoken to Mick [McCarthy, Ipswich manager] and he's been happy with him during the course of time. If Robbie wasn't going to be involved with us, let's get [Murphy] in. Let's get him involved. I'm sure it will be a boost for him.
"Stokes scored a hat-trick [last Sunday] and Doyle has moved this month on loan to QPR from Wolves and I'm sure that will do him the world of good. At the moment he's involved in a promotion battle with QPR. I watched their game against Reading on Sunday. He got a goal and any goal for a striker will give him a boost of confidence. Shane Long got a move to Hull and he's benefitting from that as well."
When asked if the frequency of first team action at club level would determine the likelihood of players being selected for Ireland duty, O'Neill refused to close the door on those who haven't been playing every week for their clubs.
He said that he had spoken to both Shay Given and Stephen Ireland, although neither of those players is included in the squad for the Serbia game.
He told the media: "Ideally it would be great if everyone was actually playing and of course there is a great deal of frustration from the viewpoint that some players are only getting a few minutes at the end of matches, sometimes not even getting on at all.
"I don't really want to hold it as a hard and fast rule because there will be players that, at some stage or another over the course of the next 18 months, I will have to call upon and rely on some sort of fitness, particular players whose abilities I would know anyway who might not have played for three or four weeks. I don't want to sit here now and say it's absolutely essential that they're playing. It would be great if they were.
"I've spoken to Shay and I don't really want to go into a deep conversation here today about what transpired. I think he's enjoyed it immensely at Middlesbrough now that he's playing first team football and that has re-enthused him. He's got his enthusiasm back for it and I will monitor the situation. I didn't really want to go too deeply into it.
"Likewise I've spoken to Stephen. He hasn't had very much playing time in the last six or seven weeks. I just mentioned the fact that I've come in here and you'd use those old cliched words about a slate being clean and that kind of stuff, but let him go and try to find his feet at Stoke for a start. His was a phone call and I want to go and see him personally, and I will do that in the foreseeable future.
"I have spoken to both and in terms of the players, if I can get what I consider the best players in the best form playing when the big games come around, all the better for me and hopefully for the Republic of Ireland."
When asked if he would consider players from the League of Ireland, O'Neill said that he had been informed of a selection of players in this country's domestic league, adding that he hopes to attend some Airtricity League matches in 2014.
"There have been a couple of players who have been mentioned to me that obviously I would like to see as soon as possible, so I'd want to be doing that. One or two of the managers in the League of Ireland have said that these players are definitely worth looking at, so I've taken that into consideration and that would be good.
"I'm starting from scratch in that aspect so when the season kicks off, hopefully I will be at some of these matches, particularly the players that have been brought to my attention."
One former Ireland international who is now playing at club level here is Keith Fahey, who joined St Patrick's Athletic in the winter. He is not currently in the Ireland manager's plans, but nor did O'Neill emphatically rule out a possible recall.
"When you ask me if [Fahey] is close to the squad at this moment, I'd have to say no, not at this minute, but it doesn't mean that I can't reconsider. I will certainly keep it open.
"Of course you would love every single player in your squad to be playing at the highest possible level, but it's not going to happen and I knew that anyway before I took the job, so a lot of the games I've been watching are Championship matches. It doesn't mean that someone who hasn't made this squad, provisional or otherwise, hasn't got a chance of coming through as well. I can't really dismiss it."
The scheduling of a friendly international during a critical juncture of the club season is not ideal for managers of Premier League and pionship clubs, but O'Neill, who has managed several English clubs in the past, is considerate of their mindset.
He stated that he has been in contact with some club managers to ensure an understanding as to what is expected of players on international duty.
"I will liaise with some managers who will be very anxious about their players in this particular international game that they, the club managers, would probably consider a botheration at this time. I'll just try and play ball with them if it's at all possible, but by the same token try to get something out of the game.
"I know that when I was a club manager, I'd like an international manager to call me about one of my players, particularly this game coming up where it's a shortened week. You've only got them for a day or two and to say that I'm calling a player into the squad and I'm going to use them for a certain length of time in a match, that give me a wee bit of comfort.
"There is only a certain number of substitutions that you can make here in these games, so one or two players are going to have to play the full game."
Finally, O'Neill and Ireland will learn on Sunday who will be their opponents for the qualifiers for UEFA Euro 2016, which has been expanded to 24 teams.
Ireland are in the second group of seeds, and with at least two teams guaranteed to advance from each group, a kind draw would boost Ireland's chances of qualifying for the finals in France.
The Ulsterman will attend the qualifying draw in Nice this weekend, saying that he is eagerly anticipating the discovery of his first opponents in competitive action when the qualifiers begin in September.
"I'm looking forward to it immensely. It's the thing that actually draws it more closely to me. There's a focal point. I've been looking forward to the draw for a while now. I can see teams in Pot 2 along with us that you thought might not be as strong as some teams in Pot 3. Let's just take it as it comes and enjoy it as it happens.
"There are teams in Pot 3 that you would be very wary of and there are some teams in Pot 4 that I would also be wary of, but I'll go with it. I'll enjoy it while it happens and try not to make too many faces if the draw is coming up that I'm not overly happy with."