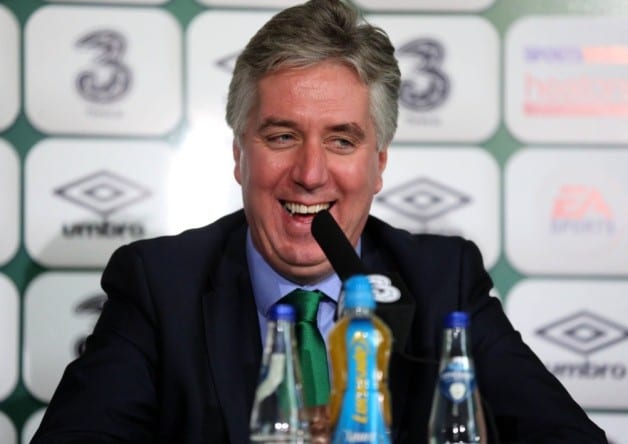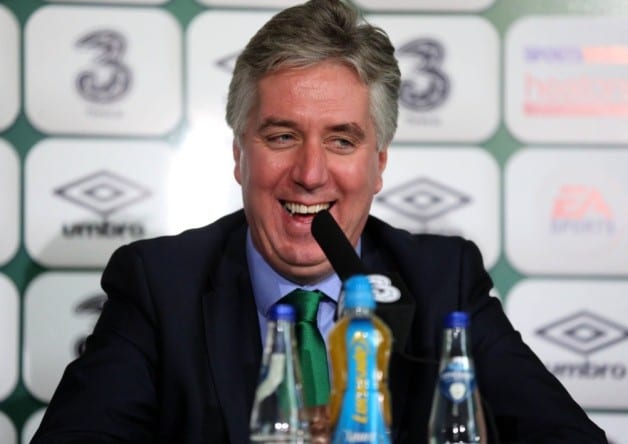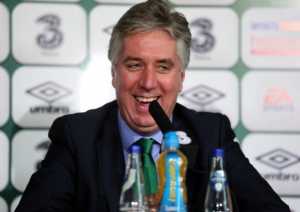 FOOTBALL Association of Ireland (FAI) chief executive John Delaney said that he is exploring the possibility of bringing Republic of Ireland underage international matches to Limerick.
He was in the Treaty City this week to present tickets to parents and staff at the Bedford Row Family Project and declared his wish to hold international fixtures in venues across the country, including Limerick.
Thomond Park hosted two senior Ireland matches in 2009, when Australia and South Africa visited the home of Munster Rugby, and Delaney has said that under 21 fixtures could "certainly" be played here.
He did stress that, owing to contractual obligations, all senior internationals will be played at the Aviva Stadium, but he was complimentary of Limerick's importance to the promotion of football in Ireland.
"At senior level we can't do any more and neither can the IRFU because we can only play our A international matches at the Aviva. That's the contract we did with Aviva and with the stadium, but I'd love to see more international matches being brought around the country and I'm very strong on that.
"Certainly over the next 12 months we'll be looking at bringing underage international matches to Limerick. It is the city of culture and sport this year. That's why I wanted Martin O'Neill down a couple of weeks ago to announce his squad here in Limerick. I thought it would be a good advertisement for the city that we would announce our international squad down here. Any way we can promote football down here, we'll do it. We have the Kennedy Cup here every year and that's always a big event."
Delaney addressed parents and staff at the Bedford Row Family Project on Tuesday, where he commended the work being done by volunteer groups and Limerick's FAI Development Officer Declan Considine, whose contribution was significant in enabling Delaney to present roughly 40 tickets to Bedford Row.
"We do a lot of community work and that's very important to us. If you're building a house you build the foundations first and the chimney is at the top of the house. The chimney for us is international football and we work with a lot of community groups.
"Declan Considine, the development officer here, is working with Bedford Row who do tremendous work for the kids. I saw both sides of the coin today. I was in Limerick Prison today giving certificates to 11 inmates for coaching courses that they've done through the FAI with Declan. Then you come here and you see the work that's being done with the kids who don't have their parents. Their parents are in jail or wherever they may be and I couldn't speak higher of the work that Larry, Bernie and the group are doing here.
"It's absolutely fantastic and you speak to the former inmates and you speak to inmates inside. One guy spoke about his child being on this project. He spoke about the boy's enthusiasm for going to the Aviva.
"We will help community groups in any way we could and we all work together. If you're rowing a boat and you're rowing on your own it takes a long time. If you row against each other you don't get there, but if you work together on the same mission you can achieve a lot."
The SSE Airtricity League begins this Friday and Delaney is expecting a highly competitive season of domestic football. He also alluded to the role of Limerick FC chairman Pat O'Sullivan in funding the club's return to the Premier Division.
"We've come a long way in terms of trying to stablise the clubs financially and in particular Pat O'Sullivan in Limerick deserves a lot of credit for the work that he's done with Limerick FC. He's put a lot of money into it and he's bought the facilities in Bruff. We're all hugely looking forward to soccer coming back to the Markets Field. I know Keith Wood is heading up that project, but on a national basis you'd like to see more people attending the games.
"The quality of football is very good and the pitches are at a high standard that we've never seen before. We've seen a lot of players make the transition from League of Ireland to the Premier League like Seamus Coleman, James McClean, Shane Long and Kevin Doyle. There was a great enthusiasm about it at the launch last week. The Premier Division is going to be very competitive this year with some very good sides, so it's going to be an exciting Premier Division this year, no doubt about it."
Speaking about the recent draw for the UEFA Euro 2016 qualifiers, Delaney said that Ireland had been given a difficult group, but he is confident that the profile of some of our group opponents will attract large crowds to matches at the Aviva Stadium, as well as seeing sizeable Irish contingents travelling to the away fixtures.
"Football-wise it's challenging with Scotland, Poland and Germany. It's a challenge to finish second and get an automatic spot or third and a play-off. Commercially I'm sure the support will be very good. The supporters are thrilled. They want to go to Scotland, to Faro in Portugal where we'll play Gibraltar and to Warsaw to see Poland. Tbilisi will probably be more difficult but there are some great trips for the supporters and commercially there will be big crowds for the Germany, Poland and Scotland games.
"We've got a new management team in Martin O'Neill and Roy Keane. It's enthused the country, there's no question about that, and they'll get the best out of our players. Please God we will make France in 2016. That's the objective and that's why we're in football, to get to major tournaments."