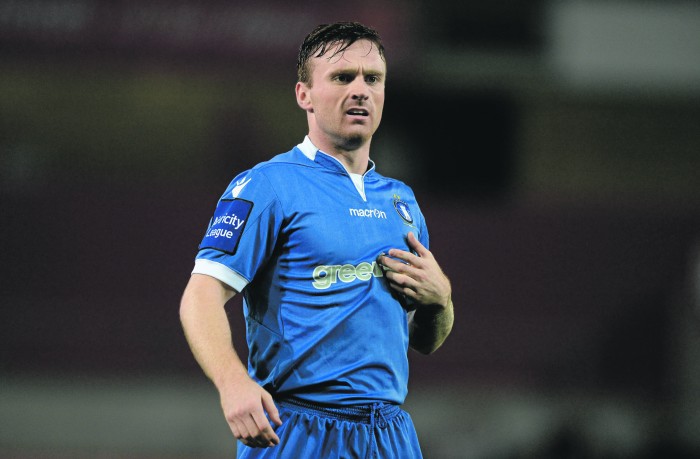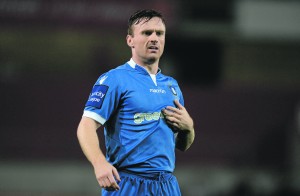 LIMERICK FC confirmed this Thursday morning that striker Craig Curran has departed the club via mutual consent, ending several days of speculation over his future.
A brief statement which appeared on the club's official website from Thursday morning read: "Limerick FC wish to confirm that Craig Curran's contract with the club has been terminated by mutual consent this morning. The club will be making no further comment."
The 24-year-old Liverpudlian was the subject of considerable speculation in recent days, a chain of events set in motion by reports on local radio last Friday (May 9) that he had parted company with Limerick FC.
Later that day, Curran tweeted "I hope every1 understand I cnt talk about my situ at the min but wether I go or stay I've had a fantastic time. Fans have been unbelievable" [sic] and he was not in the squad for the Super Blues' 0-1 defeat away to Bray Wanderers that night.
Limerick FC then issued a statement on Saturday morning (May 10) which declared that Curran was still a registered Limerick player contracted to the club. Manager Stuart Taylor spoke to the press on Tuesday morning (May 13), with a club statement due to be issued later that day. However, no such statement was forthcoming from Limerick FC until the official announcement of Curran's departure on Thursday May 15.
Last Friday's defeat to Bray at the Carlisle Grounds leaves Limerick second from bottom a third of the way through the season. Adam Hanlon's 81st-minute goal secured the points for Bray, who in Taylor's eyes were fortunate to emerge victorious.
"We totally dominated the game from start to finish. We did everything apart from putting the ball in the net. If it was a boxing match it would have been stopped but we didn't have that killer punch and we got hit by a sucker punch in the end.
"It was a sore one to take because I always say to the players that if you put in the right performance you get the right result. That was definitely against the rub of the green and we didn't get the result that the performance deserved."
Limerick face into a hectic week with three games against title-chasing opponents in quick succession, although all three are at home. Dundalk are first up on Friday night (May 16), followed by Cork City on Tuesday May 20 and St Patrick's Athletic on Friday May 23.
Speaking ahead of the Thomond Park triple header, Taylor said: "We should not be in the position we're in. You go over so many different factors, but we are where we are. You can go through a list of things. I don't believe in excuses, but there are valid reasons and we'll take it on the chin and move on. You don't sit about and feel sorry for yourself. There's no place to feel sorry for yourself in football.
"We're coming up to three hard games now and we'll go and concentrate on those three games. We'll look to get maximum points out of them and if we keep playing the way we've played in the last two games, we'll be fine and we'll get points out of the games. We've done enough in the last two games.
"We did enough at Shamrock Rovers to get three points. There were six minutes of added time; it turned into eight, and two penalties. You take it, you move on. Last week's game we picked up our performance again and unfortunately didn't come away with the right result. We'll pick up our performance again against Dundalk on Friday night.
"There's a lot of pressure on Dundalk. There's a huge amount of pressure up there to achieve something and now they need to get silverware. We'll go and express ourselves on Friday night. We'll look to pass the ball well, create chances and hopefully take them.
"We need to get results to climb up the table. We need to get results to be where we should be in the league. Up until now, the difference in our home form to our away form has been huge.
"We've had a huge lift in away games and the players have done really well. The confidence has been there to move the ball about and it should be there for us in the home ties as well now. We're looking forward to going back to Thomond Park and playing in front of our home supporters, which is big for us. Last season when things were going well, the supporters were great and I said that a few times last year.
"Coming in after the games, the players were sitting in the dressing room making comments about how the supporters got them through because they were tired. You look at the amount of times we scored late on with an equaliser or a winner. It came down to the players getting that extra lift from the supporters getting behind them and being positive, so we're looking for that again."