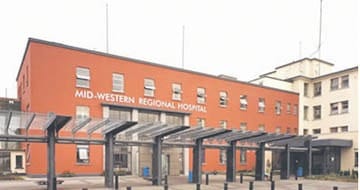 CLERICAL staff at the Limerick group of hospitals this week began a work-to-rule to protest the €250,000 salary paid to its current chief operations manager, Liam Casey.
IMPACT members began the industrial action on Tuesday July 22 and while the trade union says the move will not affect patients, they warned that it "could escalate" if staff are penalised for refusing to work with Mr Casey.
The work-to-rule is in operation at University Hospital Limerick, Limerick University Maternity Hospital and Croom Orthopaedic Hospital as well as Ennis and Nenagh hospitals.
Staff are refusing to acknowledge instructions from the manager, provide data to him, co-operate with changes directed by his office, or agree to relocate, redeploy or change assignments if instructed.
A spokesperson for UL Hospitals told the Limerick Post: "The UL Hospital Management Team are disappointed that IMPACT has commenced industrial action at the UL Hospitals Group affecting University Hospital Limerick, University Maternity Hospital, Ennis Hospital, Nenagh Hospital and Croom Hospital.  The work to rule does not affect service delivery or patient care."
The spokesperson said the dispute has been referred to the Labour Relations Commission and  said that "an urgent meeting with the conciliation service has been sought to find a resolution".
More than 90 per cent of the IMPACT members in the five hospitals voted in favour of the industrial action, which involves up to 500 members of staff.
IMPACT assistant general secretary Andy Pike said the action was designed to highlight opposition to the excessive and unwarranted salary payments being made through a management consultancy.
Mr Casey was appointed through his own management consulting firm Starline, meaning that pay caps do not apply.
"While the hospitals group is expected to take steps to fill the chief operations manager post, it appears that they are intent on retaining this consultant on a salary way above the proper rate for the job. Our action will continue until we get confirmation that the Starline contract is finished".
"The HSE has said the Mid West hospital group needs additional administration staff to provide vital services to patients. The money spent employing just one consultant would cover the costs of at least five clerical staff. In these circumstances, staff very much resent reporting to a senior manager who is being paid at least twice the correct rate for the job", Mr Pike said.
The HSE said it intends to re-advertise the role, and HSE director general Tony O'Brien told the PAC last month that it had used an agency-based approach on an interim basis as the position had proved "impossible to fill".