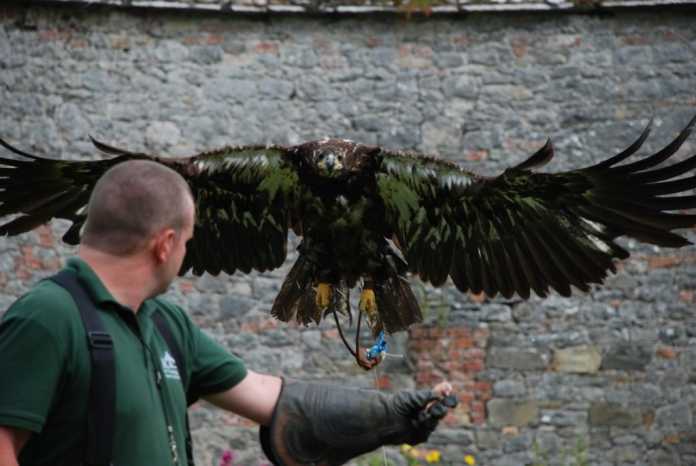 THE impressive collection of birds of prey at Adare Country Pursuits (ACP) has been enhanced by the arrival of an extremely rare female American bald eagle.
The nine-month-old bird is the first of its kind at any Irish resort and Adare Manor Hotel, on whose grounds ACP is situated, is running a Facebook competition where members of public can name the bird.
Willie Forde, facility manager at ACP, said that the eagle has proven to be a massive attraction for the resort, which already has a rich collection of ornithological species.
"We compare ourselves to other resorts in Ireland and nobody else in the country has this type of bird. We've had a massive reaction to it. It's the national emblem of the USA and we'd have a substantial North American market.
"We have a fantastic collection of birds here. There's falcons, a Harris hawk, Eurasian eagles, indigenous barn owls, a Mexican screech owl, a white-faced owl and a male stepp eagle."
The American bald eagle has been with ACP since Tuesday July 22 and will remain on the grounds of the Adare Manor Hotel. Willie explained that the arrival of the eagle concluded a three-year search for a "suitable" bird, adding that the birds at ACP are treated with the most professional of care by the resort's six staff, a mixture of volunteers and full-time workers.
"The birds we keep here have to be extremely well trained. These are formidable birds and they need to be well manned all the time. The care they receive is very precise. Every day they are weighed, fed and manned.
"They must be well handled by both guests and staff. They need to be able to be touched by a glove without getting upset and to be penned individually", he explained.