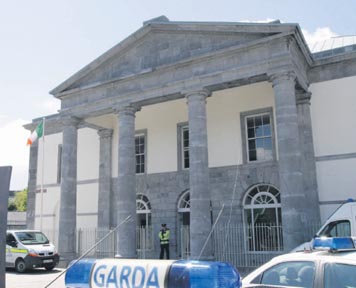 by Andrew Carey
A LIMERICK drug addict who slashed his drinking companion's throat has avoided a jail sentence after a judge ordered him off alcohol and drugs.
At Limerick Circuit Court this week, Eoin Cleary (34) of 20 Rathbane Road pleaded guilty assault causing harm to Dean Culhane on July 13, 2011.
Cleary was among a group of people drinking at a house on Sean Heuston Place when a dispute arose. He left the group he was with and went downstairs where he armed himself with a knife, claiming he was going to "get rid of Dean Culhane in two minutes".
A witness described how Cleary lifted Mr Culhane's head and drew the knife across his throat, "slicing his neck open".
Cleary told Gardaí that he was "egged on" to carry out the attack but he later admitted the the offence.
Before imposing sentence, Judge Carroll Moran said Cleary was going to have to stay off illicit drugs which prosecuting counsel John O'Sullivan said was "impossible to police".
Called to the witness box, Cleary gave an undertaking to stay away from drugs and said he understood this would mean a "very rigorous examination of urine tests".
Judge Moran said it was difficult to imagine anything worse than "slitting someone's throat with a knife". Although the injured party made a full recovery, he was taking account of medical evidence that there was a significant risk of serious harm to the victim.
Imposing a three year prison sentence, Judge Moran suspended it for five years on condition Cleary completely abstains from drugs during that period. He also ordered him to submit to any tests "urine or otherwise" as directed by the probation services.