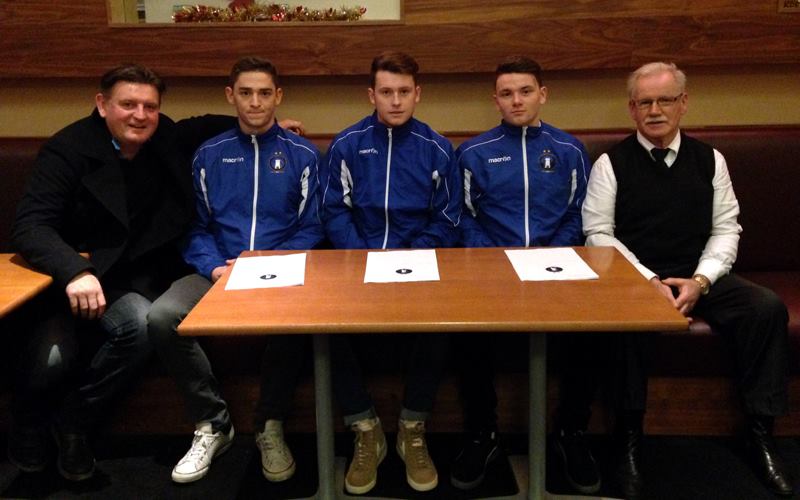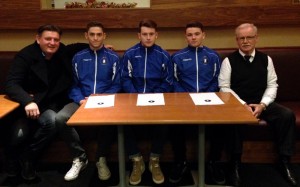 LIMERICK FC went Christmas shopping on Thursday with the arrival of three new players to the club as Conor O'Donnell, Sean Russell and Dean Clarke all signed for the Super Blues. The trio, all 21 or under, have all worked with Limerick manager Martin Russell during his time at UCD.
Goalkeeper O'Donnell (20) spent time with Ipswich Town before returning home to join UCD, for whom he made his league debut in 2013. He was the Students' first choice netminder last season and manager Russell said of the youngster: "If you're choosing a young keeper in the country, Conor is the one you would choose. That's what we've done. We're happy to give Conor an opportunity again in the Premier Division that he can go and grasp and run with, and prove that he is on his way up as a top keeper."
Seán Russell (21) had three and a bit seasons with UCD before signing for Longford Town a year ago. He joined Shelbourne in mid-season and Limerick will be his fourth club in little over 12 months. His new manager believes that he has made an astute signing by securing the services of the midfielder.
"In Seán's play, there is a lot of creativity. From the experience that I've had when I've worked with him before, he's a willing lad that gets on with the game.
"He tries to create things but also he has played some defensive positions as well and has a bit of versatility that he can play in a couple of different positions, which is positive as well.
"Everywhere that he has played his football so far, I think all he wants to do is try to progress. He's still, along with the other two lads, developing, but I think what he has got to offer at the moment will contribute in a positive manner at the club."
Striker Clarke (21) joins from UCD, where he carved out a reputation as one of the league's brightest young talents and was a popular figure among the Belfield fans. He reunites with manager Russell, who gave him his debut for the Students, and the Limerick boss has every confidence that Clarke will bounce back from an injury-hit 2014.
"When I was at UCD, Dean came up through the under 19 ranks and I gave him his debut in the first team. The problem for Dean last season, unfortunately for him, was he had an injury which set him back, but what is still there is that he's a top young striker that has got plenty of pace. He's got an eye for goal and again I can see him contributing in a very positive way."
In addition to the three new arrivals, Limerick also signed left-back Robbie Williams for another season. The experienced English defender joined the Super Blues in February 2013 under the watch of Stuart Taylor.