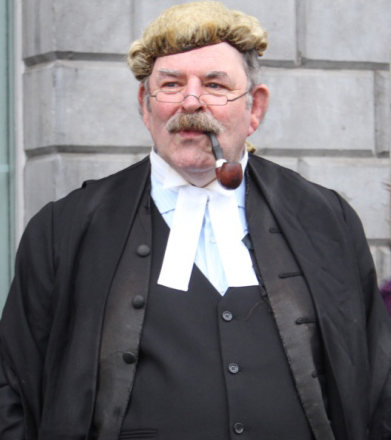 Andrew Carey
andrew@limerickpost.ie
MANY words have been used to describe the late Brendan Nix, one of Limerick's finest sons and barrister at law. He was passionate, ebullient, dedicated, charming, raconteur, genuine, colourful, emotive, booming and theatrical, but above all, a good friend.
Stood shy of six feet in his socks, sporting a proud moustache and small spectacles resting on the tip of his nose and all above a pout of pursed lips poised to take down a witness in cross-examination while he held his pipe which emerged from a chink in his armoured waistcoat pocket.
It's an image that many might recall from TV, but if you were lucky enough to see the late and very great Brendan Nix at work in the theatre of the court room, it is there that you would have witnessed one of the best legal minds in full flow.
Doodling on a pad next to a book of evidence where an accused stood in the dock awaiting his fate, you would think that this man was a million miles from the show that was unfolding.
That would be your first mistake as Brendan Nix was a splendid listener.
Every word of evidence would be absorbed as Limerick's greatest 'Rumpole' waited to retort. Cross examination was his speciality and the bigger and more elaborate the doodle on his note pad, the more torrid the take down the Limerick man could deliver.
"He always did his best for his client. Even in the worst times, he gave them light at the end of the tunnel", his brother said.
Last week, on the same day that his old friend Mr Justice Paul Carney sadly passed, 63-year-old Brendan Nix passed away at home following a short illness where he was surrounded by his family and close friends.
A packed congregation gathered at the Our Lady of the Holy Rosary Church on the Ennis Road to pay respect to a decent man. Everyone had a story, everyone had a smile and everyone was touched by his untimely and premature passing.
During the requiem mass – Brendan was remembered by his wig, his pipe and tobacco, a picture of his dog and a copy of the blue book – the twelve step programme with the AA.
Brendan fought many battles, some his own and some for his clients, but in the last three years, he had his greatest victory of all to sobriety.
In his last few days, Brendan said that he had "won the war, the battle was over and the truce was signed and he was walking away from the battlefield. And then I got hit with a stray bullet".
Shakespeare wrote; "all the world is a stage, all the men and women merely players, they have their exits and their entrances and one man in his time plays many parts".
In some of the finest tributes that a Limerick court has seen and on the stage where Brendan displayed his unique prowess and knowledge of the law, the 63-year-old was fondly remembered by colleagues and friends before he took his final journey.
Limerick's Circuit Court Judge Tom O'Donnell spoke fondly and emotionally of his "good friend that has left us" and one of the greatest orators to have graced the courts. A sentiment that many echoed and elaborated upon. Brendan Nix could deliver a speech, but above all engage and capture those in his audience.
A great void has been left by his passing added Judge O'Donnell who said that it was best to describe Brendan Nix as a passionate man.
"Passionate about life, work, family, sport, food and Limerick".
State prosecutor John O'Sullivan said that the late barrister was courageous, vigourous and always good humoured".
"He graced the courts for almost 40 years and we will miss him dearly".
Former Chief Justice and fellow Limerick man, John Murray, said that the senior counsel
"I remember him when he first came to the bar and he joined the Munster Circuit here in Limerick as a junior council. He was ebullient and enthusiastic to his work, something which he sustained throughout his professional career. he came to specialise in the field of criminal law as a senior counsel and achieved a very high standing," said Mr Murray.
"I think he enriched the administration of justice in that area and will be greatly missed by his colleagues and and his family and friends to which I extend my sympathy and the administration of justice will be that bit poorer for his premature death."
Outside of the criminal and civil courts, Brendan was also the coroner for West Limerick – a role that he delivered with such empathy, compassion and always with a clear and defined understanding of its function – it was the peoples court he would always say.
"The world is more ordinary for his passing," said Ted Mr McCarthy fittingly said.
Mr Nix is deeply regretted and survived by his loving partner Antoinette, children Simon and Amy, their mother Ann, brothers Jim, Michael and Don, sister Rena (Galloway), uncles, aunts, sisters-in-law, brothers-in-law, nieces, nephews, colleagues, relatives and his many friends including his loyal dog Lord Alfredo Garcia.