by Alan Jacques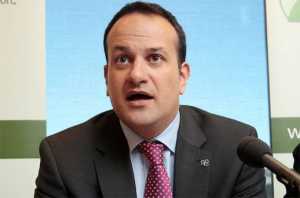 HEALTH Minister Leo Varadkar has once again been called upon by families in West Limerick to engage with them over claims of high rates of cancer within their community.
The Cappagh Farmers Support Group maintain that Minister Varadkar has ignored findings in the 2001 Askeaton health report indicating that it had a significantly higher rate of deaths in children under the age of 14 than in other areas of the Mid-West.
According to the group, this trend has continued and no one has investigated it. They have previously raised concerns over high rates of miscarriages and early pregnancy loss with women in the area, coupled with high respiratory problems over the years from suspected Industrial pollution in the region.
"To date, the Minister has refused to meet with us and has failed to inform us fully as to how a review will be conducted and what area it will entail, its time frame to be completed by and what doctors are been spoken to," said spokesman for the group, Pat Geoghegan.
"Overwhelming evidence has been produced to Minister Varadkar to stop a recurrence happening again and families deserve more that a whitewash again this time around. This review must be fully transparent in every aspect of it," he added.
The Cappagh Farmers Support Group also want to see a broadening of any review carried out to cover the areas of Shanagolden, Foynes, Askeaton and Croagh, in relation to cancer problems.
In response, a spokesperson for HSE Mid-West said that following concerns arising originally from animal health in Askeaton and its environs during the 1990s several reports by different groups including HSE and University researchers used National Cancer Registry in Ireland (NCRI) data to examine human cancer rates in the area.
"The NCRI records and reports on all new cases of malignant cancer registered in Ireland and is the only source of incidence rates across geographical areas in Ireland.   
"All previous reviews covering the period since cancer registration began in Ireland in 1994 until 2006, showed no significant excess of cancer incidence in the Askeaton area, although significantly elevated rates were noted in parts of Limerick City."
"As a result of new concerns expressed by a community group in the Askeaton/Cappagh area in July 2015 to the Department of Health, the HSE requested an updated analysis from the National Cancer Registry in Ireland (NCRI) for the same geographic area as outlined in their previous reports.
"The new NCRI report confirms the continuation of this pattern for the period 2003-2012 with cancer incidence ratios in the Askeaton area still below the levels expected when compared to Mid-West incidence and significantly below the level in the Irish population during that period although higher rates persisted in Limerick City."
The HSE also says that it consulted with local GPs on any unusual clusters of cancer since 2013, especially for patients that may have resided close to Cappagh/Askeaton. Only one out of the group of GPs noted a higher rate of tumour of a particular type during this period.
The HSE submitted an additional request to the NCRI to undertake a further analysis from their 1994-2012 cancer registration data specifically on this type of tumour.
"The rates were analysed by NCRI for the same geographical area and no rates indicating either higher or lower risk of statistical significance were found in either the Askeaton or Limerick City areas.
"In summary, rates of invasive cancer reported by NCRI remained below those expected between 2003 and 2012 in the Askeaton study areas. However, because there is a lag period of up to two years between diagnosis and inclusion in published reports, local GPs have been asked to continue to monitor for any unusual patterns in order to maintain a strong system of surveillance through the GP network."