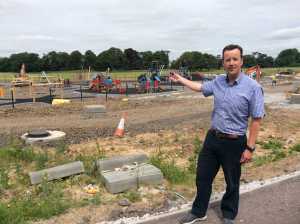 THE €1 million playground facility on the grounds of the former Mungret College is now nearly completion and is expected to be open next month.
Labour Party councillor for City West, Joe Leddin, was as giddy as a schoolboy this week after taking a visit to the site.
"I was pleasantly surprised to see the scale of work undertaken by the contractor with many of the playground equipment already installed," he enthused.
"The opening of the €1m playground facility will be warmly welcomed by the Mungret, Raheen, Dooradoyle community as an essential facility that has been sadly lacking for many years in this part of the city."
The Part 8 planning process allowed for full consultation between residents and other stakeholders and the design eventually agreed will also accommodate the needs of those children with various disabilities.
"The new state-of-the-art playground which will also include security fencing, parking and toilet facilities is part of the overall redevelopment of the Mungret lands. The masterplan for Mungret also involves the provision of a neighbourhood park, cycle track, two primary schools and a post primary school.
"The installation of outdoor exercise equipment at various locations along the cycle track and walkways will also incentivise parents and older siblings to stay active and healthy. Once the overall development works are completed a valuable recreational community will greatly enhance the immediate and surrounding area," Cllr Leddin predicted.
by Alan Jacques