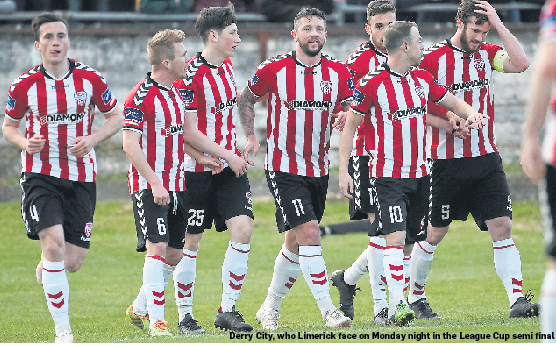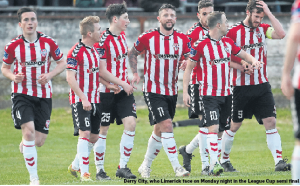 THE prospect of reaching the EA Sports Cup final looms large for Limerick FC tonight as they take on high-flying Derry City in the last four of the competition (kick-off 7:45pm).
The Super Blues have already beaten two Premier Division sides to make it this far, dumping out Wexford Youths and Galway United, but tonight's game at The Brandywell against the third-placed side in the top flight is set to be their biggest test of the season to date.
With promotion all but achieved by this stage, manager Martin Russell feels that a meeting with an in-form Premier Division outfit presents the perfect opportunity for Limerick to really see where they are at compared to the top sides in the country.
He said: "It's probably the challenge that the lads need. They deserve to have this opportunity and we'll encourage them to play well and give it everything. Derry are up there with the form teams. They're in a European position at the moment. They've been very good under Kenny Shiels so far this season. They haven't been beaten too many times in The Brandywell so it's a big task. It's a big challenge but I think our lads are looking forward to it.
"It is [a big game] and to get to the final would be a good milestone. Once you're there, you want to win it. For me, I'd like to see this group standing toe to toe with Derry and playing a good game of football. It will be a good marker for us and we'll learn a lot."
Russell also called for his players to be as clinical as possible in Derry, having had games recently where their margin of victory wasn't fully indicative of their overall dominance.
"It's another level and chances probably won't be as easy to come by against Premier teams. There's no doubt that it will be a challenge and both attacking-wise and defensively we'll have to be very solid against them. We'll have to do both side of the game better than they do to hopefully get into the final."
Russell's son Sean, who is likely to feature for the Super Blues tonight, echoed his father's belief that the semi-final is an ideal opportunity for Limerick to prove their worth. Following Friday's 2-0 win over Shelbourne, the squad travelled to Derry yesterday after a training session and will be eager to make the long trip back to Shannonside with a cup final to pencil into the diary.
The midfielder said: "It's a good couple of days away for us. We'll be together a lot before the game. We've had a lot of time to prepare and hopefully we can come out with a win. It's very important for our season to keep us going. We really want to do well in the cups now and we want to show that we can test ourselves against the big teams as well, so we've a lot to prove in that sense. We want to go out and put in a good performance and hopefully we do."
Limerick captain Shane Duggan added: "It's a quick turnaround. We had a training session on Sunday and we'll have good preparation into [tonight's] game, as well as a lot of rest. We went up on Sunday so we have plenty of time for recovery and it's a good distraction to have from the league. We've got a cup final that we can reach and we'll be doing everything in our power to do that."