The mysterious insect, that a city shop assistant on Cruises Street feared was a killer Asian Hornet last week, has been identified by John Breen of the University of Limerick's Department of Life Sciences.
"It is not a hornet. There is nothing to worry about. He is not a he – 'he' is a she. What looks like a giant sting is in fact a tube for laying eggs. It is an interesting species. I prefer to call it the Great Pine Sawfly, sometimes it is called a wood wasp, but it is not a wasp – it's a sawfly and the scientific name is Urocerus gigas," John explained.
"The male of the species is not as spectacular looking as it doesn't have an egg-laying tube. Even though that egg-laying tube looks dangerous and sting-like, these insects are harmless to humans."
Its larvae live in dead wood — not decaying wood, just wood, which is a few years dead.
"It is good practice in forests to leave some cut tree trunks lying around to provide a home for species like this", he advised.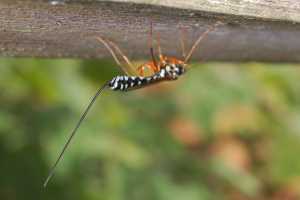 "Great Pine Sawflies seem to be more common this year – just last week, a Cork radio station contacted me as someone had seen three of these in his garage. In that case it was likely that there was untreated, or badly treated, timber used: one might fly in to a garage, but three would be unusual. Or maybe he had a pile of firewood which was a few years old?"
"So, the larvae develop in dead pine wood. This species has a parasite, an Ichneumon wasp which has an even more spectacular egg-laying tube. She lays her eggs into the larvae of the Great Pine Sawfly, and they live on the sawfly larvae.
"The sting found in bees, wasps and ants evolved from the egg laying tube such as those in the sawflies and ichneumon wasps. That is why male bees, or drones, do not have any sting as they never had an egg-laying tube", he added.
by Alan Jacques