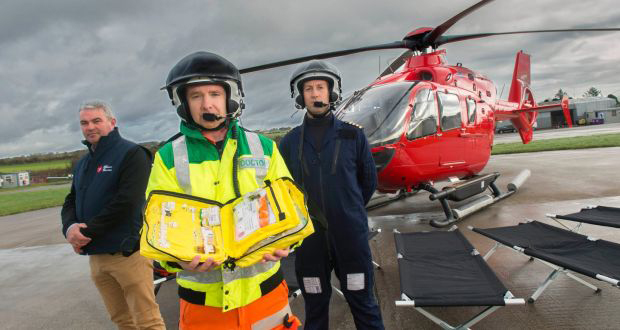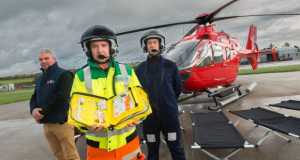 A new initiative that has the ability to save countless lives in its first 12 months of service has been announced.
Based out of Cork Airport and serving Limerick and the main towns in Munster, Irish Community Air Ambulance will provide a vital lifesaving service , offering fast access to advanced clinical interventions at the roadside by highly trained pre-hospital emergency care physicians.
The Irish Community Air Ambulance service will mirror successful models across the United Kingdom and other countries where geographically challenging terrain warrants an air ambulance.
It is hoped that more than €1 million can be raised to launch the service from late Spring 2017. Irish Community Air Ambulance will complement the existing emergency services and the current Athlone based Emergency Aeromedical Service operated by the National Ambulance Service in partnership with the Irish Air Corps.
It has been proven that early access to world class critical care and pre hospital emergency medicine administered by trained, experienced and equipped medical personnel can save lives. The air ambulance service will offer gold standard care commencing at the roadside and continuing while on route to definitive care in hospital.
Co-founder John Kearney said "People are dying unnecessarily due to the time it takes to receive critical care.  This service will be built on the already successful model of Ireland's Rapid Response Service which has been in existence since 2009 and uses volunteer doctors for pre-hospital emergencies.
"There are currently five level four clinicians and more than 100 GPs with the Rapid Response Service who have saved countless lives and improved care in its seven years. The launch of a community air ambulance service is the next step bringing better response times with permanent on-duty doctors who will have the ability to bring advanced skills to acutely ill and injured people throughout its catchment area," Mr Kearney explained.
"It will offer a mobile intensive care unit by air which will allow us to safely transport patients faster to a major hospital, saving time and lives. This is a service for Munster so we need the support of the people of Munster to donate, fundraise or volunteer.
"We need to raise € 1million to take off and € 2million every year thereafter which is a huge ask but in our view achievable.  Communities in Cork have sustained our land based Rapid Response doctors, now we're calling on the people of Limerick and  the rest of Munster to support an Air Ambulance. Just €2 per person per year in our Province will do it!", he said.
 The air ambulance will travel to every town in Munster over the next six months in a bid to raise much needed funds. People are being encouraged to log on to www.communityairambulance.ie to pledge or host community fundraising events to get lift-off.
By texting the word "FLIGHT" to 50300 people can easily pledge €4 to the cause.