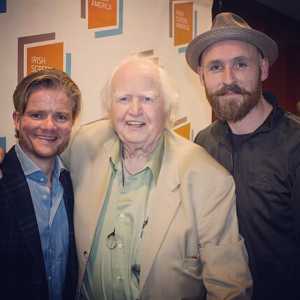 IT'S been a great year for Irish cinema, home-grown films like Young Offenders, Sing Street and The Survivalist have received recognition on a global scale and been lauded by audiences and critics alike.
And while those big-screen releases continue to gather acclaim, a smaller film, something made for a fraction of the cost, has been making waves of its own.
Narcan, written and directed by Limerick native Peter McNamara, premiered at the Irish Screen America Festival in New York last month. A twenty-minute short, it tells the story of an Irish paramedic working in the Big Apple, struggling to balance the demands of his job with his family commitments.
The film was well received, so well in fact that, within minutes of its ending, Peter was fielding all manner of requests: "The premiere went great," he confirms, "we met some huge producers who were very interested in turning Narcan into a feature film."
Not one to lose the run of himself, Peter accepted the business cards thrust into his hands and thought nothing more of it; the notion of a big Hollywood producer wanting his film seemed like "pie in the sky".
But the calls kept on coming and, after weeks of negotiations, Peter is now working on a script for a full-length version of Narcan, to begin filming in 2017.
The short version hasn't been completely forgotten about though.
It won its first major award at the Williamsburg International Film Festival last week, scooping a Best Actor gong for its star, Peter Halpin. That was swiftly followed by a Best Picture award at the New York Metropolitan Film Festival.
When asked about the impact of all this success, Peter is keen to deflect attention away from himself.
"I feel great for the cast and the crew. Any success that comes along for Narcan, it's pretty much for the team, for myself I'm just going to get my head down and work on the feature, that's my goal. It's nice to win the awards, there's a big pool of films that are entered into these American festivals and to come out on top with best film is crazy, but it's a testament to the lads we had working."
Due to its New York setting, Narcan has been specifically targeted at US audiences, but Peter is hopeful of bringing it to his home city in the near future.
"We're going to continue our run on the festival circuit, then we're going to look to putting it on RTÉ. After that we'll have a screening here," he confirms.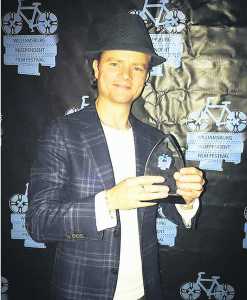 Narcan may currently be wowing audiences across the pond, but another of Peter's films has earned plaudits closer to home. Having been chosen to write a film for screening at this year's Richard Harris Film Festival, Peter penned Day Off, a "very personal film" that deals with early age dementia.
It duly won the Newport Beach Prize, giving it access to the biggest film festivals in California, fully endorsed by Jared Harris among others. It has been purchased by Aer Lingus, for screening on it's long-haul flights, and Short TV, an American-based VOD (video on demand) channel.
Given all this success, you'd expect Peter to be living the life of a big-shot filmmaker, hobnobbing with the stars, sipping champers on the Riviera. But no, he's taking nothing for granted, continuing to work at his day-job as a tiler, spending his nights finalising the revised script for Narcan.
"The producers call me on a weekly basis, and I don't think they know that I'm on a building site. I'm working in construction every day and these producers think I'm a screenwriter working in an office somewhere," Peter laughs.
He may still be up with the birds every morning, working in chilly conditions to provide for his wife and three kids, but Peter is on the brink of something, something big.
Pretty soon he may not only be able to quit his job, he may be able to fulfil a lifelong ambition.
"The dream is to be living in New York and getting paid to write films and make films, that's the end goal for me.
But for now, I'm on an ice-cold building site with no heating."