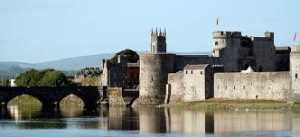 King John's Castle has been named as Ireland's most innovative tourist attraction.
The castle, which in recent years underwent a massive redevelopment programme to its visitor facilities, received the award at the Irish Tourism  Industry Awards ceremony at the Clayton Hotel in Dublin on Friday, February 3.
Minister for Tourism Shane Ross TD gave the coveted award to Brian Nevin from King John's Castle at the gala event in Dublin.
Despite facing a very strong and competitive field, the awards ultimately identified King John's Castle in Limerick as a worthy winner.
Minister of State for Tourism Patrick O'Donovan said: "This award is recognition of the great work that has taken place at King John's Castle in recent years. The development of its visitor centre, café and exhibitions means that it is now a tourist attraction with world-class facilities. The team at King John's Castle have all worked exceptionally hard to make this a reality. As a Limerick representative, I am hugely proud that this award went to King John's Castle."
Speaking at the event, Eoghan O'Mara-Walsh, Chief Executive of the Irish Tourist Industry Confederation said: "This award validates all of the hard work that the team at King John's Castle have put in in recent years to make it a world-class attraction. They face some very stiff competition in this category, and it speaks volumes about the high level of the Castle's facilities and its overall tourism offering that it is the winner. ITIC hopes that this award will further enhance King John's Castle as one of Ireland's must-visit tourist attractions."