A THOUGHT: 'Make Our Garden Grow'.
This is title and theme to a concert this Sunday July 2 by Irish Youth Choir (IYC) at St Mary's Cathedral at 7.30pm.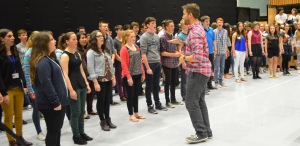 This performance and explores the life of Nadia Boulanger, perhaps the greatest music teacher who ever lived, according to this music corps. The programme is conducted by of the Choir's artistic director, Greg Beardsell after a week's coming together of the choristers for intense rehearsal and training at summer school in UL.
Boulanger, (1887-1979 Paris) was a conductor, organist and one of the most influential teachers of musical composition of the 20th century.
She studied composition with Gabriel Fauré and organ with Charles-Marie Widor. She later taught composition at the conservatory and privately. Boulanger also published a few short works and in 1908 won second place in the Prix de Rome competition with her cantata 'La Sirène'. She gave all over, rating her works "useless" after the death in 1918 of her talented sister Lili, also a composer and featured on this programme.
Look forward to a diverse evening of composers sung on Sunday night, Massenet, Saint-Saens, Monteverdi, Copland, Bernstein and more.
Booking through University Concert Hall's box office on www.uch.ie