DRAG Queen Madonna Lucia presents her one woman show 'not safe for work' (NSFW) as part of this year's Pride Festival. This will be the second time 'not safe for work' has been staged. Written and performed by Evan Kennedy, one part of legendary Limerick Drag duo Sheila Fitspatrick & Madonna Lucia with Mike Shinnors.
The show is part autobiographical and part stand up comedy and was a big hit at the first ever Limerick Fringe Festival earlier this year.
"It had been on the boil for a while but I didn't know how or where I could actually do it."
Limerick Fringe asked Evan to submit something. They really liked NSFW and asked him to take part.
While Evan is no stranger to being on stage, and had the idea for this show some years ago, the first performance of NSFW was daunting and a new experience he told Limerick Post.
"That was jumping in at the deep end for me because I had never done theatre or a narrative piece with a beginning, middle and an end. A lot of preparation went into it – but no rehearsal – to boil it down it is me in drag with a powerpoint presentation and a microphone."
The fringe audience loved it and the show has been trimmed and updated for Pride Week.
The format of the show is of a quasi educational slideshow with plenty of pop culture references, video clips and memes.
There is a look in detail at what are the most used search words by Irish people on porn sites. It concludes with a look at the unreal reality of social media and dating apps.
"It talks about sexuality – What are we all doing with our phones? Its very autobiographical not in any deep Oprah Winfrey way with lots of fun tie-in pop references.
"I don't make any definite conclusion or judgements on what they are doing. I just ask questions like Why are we all doing this?"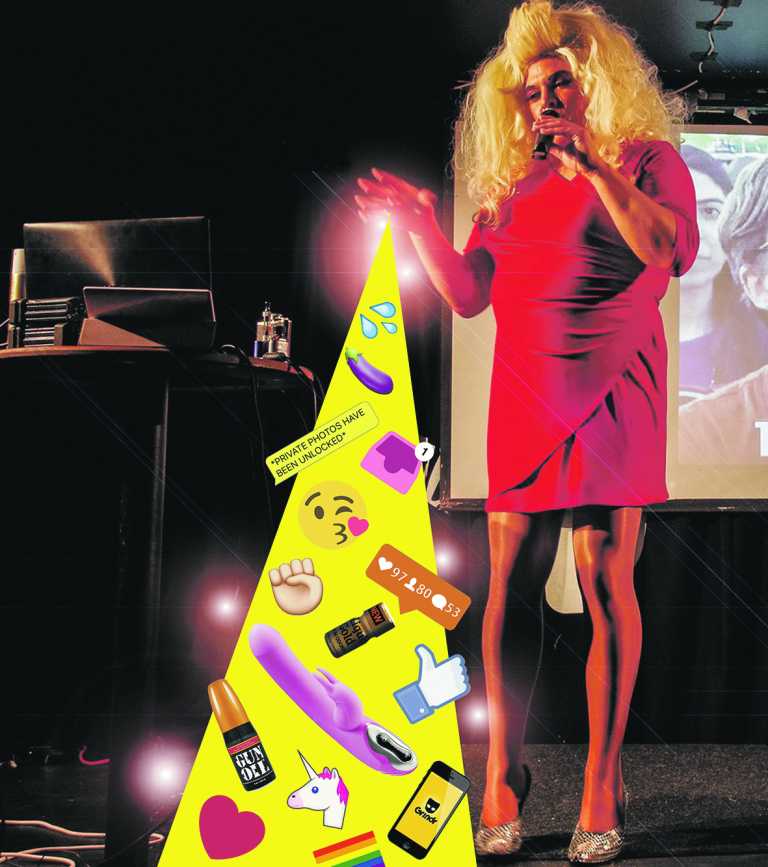 The show looks at modern day use of social media and dating apps. It highlights how cut off society has become from regular one to one human interaction and examines today's culture of pornography and masturbation.
"We a have a masturbation culture- it's all about gratification and likes and notice me. There is nothing about meeting up with people.
"Millennials are more interested in sitting at home masturbating and playing computer games than actually going out and meeting people, having real sex and reality."
The show is very much open to everyone, straight and gay.
Using phones and websites to lock oneself away from the world for fear of intimacy or rejection is a universal problem and Madonna Lucia takes a light hearted look at what exactly these millennials are amusing themselves with.
"Its open to all. There were lots of straight people and lesbians at the Fringe show. Some were shocked and some thought it very tame."
What they all did respond to was when Madonna Lucia went through the google trend searches for Pornhub in Ireland.
Madonna gives her audience a breakdown per county in Ireland on most entered keywords from male and female regardless of sexual orientation
"Its really interesting what people are looking up. It got quite a good reaction when I show what they are looking up in Clare versus Kerry."
And it is all very NSFW.
Madonna Lucia presents her one woman show 'NSFW not safe for work' at Dolan's this Thursday July 13.