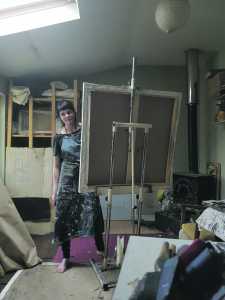 TERRYGLASS Arts Festival in Tipperary is laying claim to an exciting visual arts programme for late August, Wednesday 16 to Sunday 20. Jenny Fox will be their first artist in residence for this, the 19th year of Terryglass' summer shenanigans.
Fox is creating an installation called 'The Places in Between', based on two interlinked areas. These will be an exhibition of paintings; and a recreation of her studio, that which she calls 'the engine room for my work'.
At the Old Church daily.
Daymer House Gallery is presenting 'Homeland', a selection of short films that document life and livelihoods in Ireland's towns and villages. The videos and films, all made between 2014 and 2016, are played on a loop. They include professional, fiction and non-fiction, and both sound and silent material.
At the national school.
Now a fun, interactive one for families that should result in a stunning visual work, night and day.
Lynn Kirkham will host two drop in workshops on Friday August 18 and Saturday 19 to create artworks based on plant life. Plants, flowers and fluorescent paint will be installed onto large-scale canvases to create nature images. These will be lit by back lights at night throughout the village for a magical effect.
The artworks will be made during the festival with participation from garden enthusiasts, residents and visitors to the village in making the art, from five years upwards.