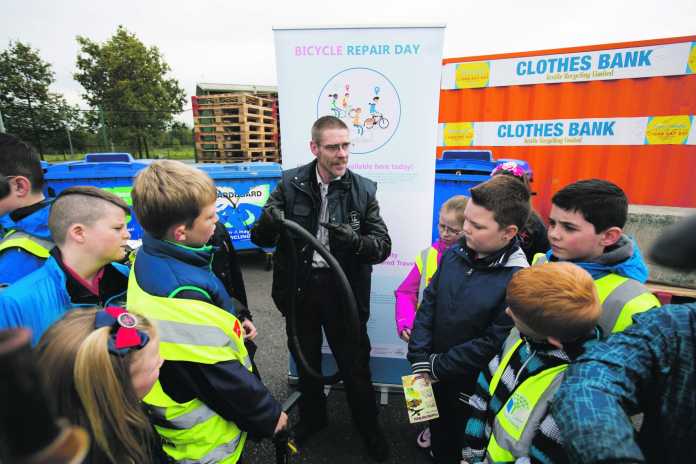 LIMERICK craftworkers skilled in the area of repairing and recycling old items are needed to share their skill and knowledge with others through workshops, classes and presentations during 'Reuse Month' this October.
The Southern Region Waste Management Office (SRWMO) is currently compiling a database of Limerick craftspeople from which they will engage key personnel for the 'Reuse Month' initiative.
The event is part of a nationwide campaign to change attitudes towards old and disused objects while encouraging people to repurpose, donate, sell or repair items and keep them out of landfill sites. The success of last year's inaugural event means that even more people will be needed to facilitate workshops and teach classes in October.
Irish people currently reuse less than two per cent of old bulky goods including furniture, with most of the remaining 98 per cent going to landfill.
Ireland has an obligation under the Waste Framework Directive to recycle 50 per cent of household waste by 2020, and a regional target of recycling 50 per cent of managed Municipal Solid Waste by 2020 has also been set. 
Pauline McDonogh, Waste Prevention Officer with the SRWMO maintains that repurposing, reusing and re-imagining uses for old goods is a cost effective and interesting way to meet those targets and reduce our waste.
"People really seem to be coming on board with repairing and recycling old furniture, clothes, bicycles and so many other items. There is the beginning of a societal move towards reusing and against throwing away items that can have a purpose once again. One man's trash really is another's treasure," said Ms McDonagh.
"Demand for this year's event is high and we require even more facilitators and tutors to sign up before the end of August. We are currently putting together a database of interested personnel.
"Limerick is very fortunate as it has a significant number of skilled artists, craftspeople and handymen and women that can find new uses for old furniture, clothes, jewellery, bicycles and everyday items, and we really want to hear from them," she added.
Applicants need to be passionate about their chosen interest for example art, furniture, textiles, jewellery, or mechanics. To apply email infosrwmo.ie for an application form before the end of August.
Visit the Limerick Post Community section to read similar stories.