Vhi Ambassador, David Gillick is calling on walkers, joggers and runners to join him at the Limerick parkrun on Saturday, 3rd February when Vhi will host a special event to celebrate their partnership with parkrun Ireland.
parkrun Ireland support local communities in organising free, weekly, timed 5k runs every Saturday at 9.30am. parkrun events are open to all ages and abilities. The 3rd of February will also mark the 2ndanniversary of Limerick parkrun.
In addition to the normal parkrun that will take place at University of Limerick, Olympian David Gillick will be on hand to lead the warm up for parkrun participants before completing the 5km course. Vhi will be providing refreshments in the Vhi Relaxation Area at the finish line. Free massage balls will be given out on a first come first served basis and a qualified physiotherapist will also be on hand to guide participants through a post event stretching routine.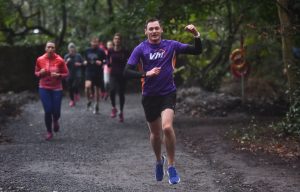 Limerick parkrun event director, Deirdre O'Brien is extending a warm welcome to newcomers
"The community at Limerick parkrun prides itself on being welcoming to all, so if you've never completed a parkrun before or have just let your parkrun habit slip, I'd encourage you to give it a go this weekend."
Declan Moran, Director of Marketing & Business Development, Vhi said "The success of parkrun lies in the simplicity and accessibility of these local community based events which are now taking place in 86 parks nationwide. All ages and abilities are welcome. At Vhi we are committed to helping our members live longer, stronger, healthier lives."
Vhi Ambassador and Olympian, David Gillick added "I'm really looking forward to helping and encouraging everyone in Limerick on Saturday morning. parkrun is a brilliant way to get some exercise, socialise and generally get your weekend off to a great start."
The events are organised by more than 600 volunteers every weekend. Over 100,000 registered participants have run more than 3.6 million kilometres at parkrun Ireland events since it started here in November 2012.
To register for a parkrun click here.
More local news here.