Imagine an hour, a day or even a week without speech. Imagine not being able to say 'I love you' this Valentine's Day. Unfortunately that is the fate met by most people living with Motor Neurone Disease (MND).
Paul Carroll is 65 years old. He is a proud Limerick man and has lived in Caherdavin with his wife Lilian for over 38 years. Paul was on the cusp of retirement when he received the devastating news that he had Motor Neurone Disease. One year after diagnosis, the disease has gradually reduced his ability to do the everyday things which most of us take for granted.
"Having been a keen walker I now use a stroller to move around and a stair lift to get upstairs. I have some difficulty swallowing which limits my choice of foods. The most radical change for me however is a severe deterioration in my speech," said Paul.
Sign up for the weekly Limerick Post newsletter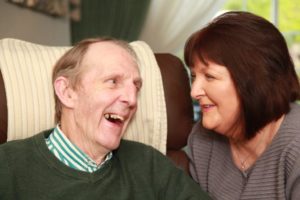 This February we are once again running our sponsored silence campaign #Voice4MND. All we ask is that you stay silent for a minimum of 30 minutes so you can experience what it would be like to lose your voice. We want you to give up your voice so you can experience what it is like for someone with MND.
"MND has opened my eyes to the generosity of spirit of the many good people who have helped me along the way. I would firstly pay tribute to my wife Lilian who has been unwavering in her support and understanding. I know my illness has placed a heavy burden on her but she accepts me as I am," said Paul.
All you have to do is to pick a day and duration for your silence. Then maybe think if you had no voice for a day how would you communicate – by app, by pen and paper?
Once you have carefully considered this set up your online fundraising page and get sponsor cards from our office just email [email protected] or you can simply text MND to 50300 to donate €2 (100% of text goes to IMNDA across most network providers. Some providers apply VAT which means a minimum of €1.63 will go to IMNDA. Service Provider: LIKECHARITY. Helpline 076 6805278).
Spread awareness by sharing your sponsored silence on social media by using #Voice4MND. Nominate friends and families to join you – get your school or work colleagues to take part.
Sometimes silence can speak volumes. Take on our challenge this February. Don't let Paul suffer in silence; don't let him live without a voice. Lose your voice so that others can be heard.
More local news here.