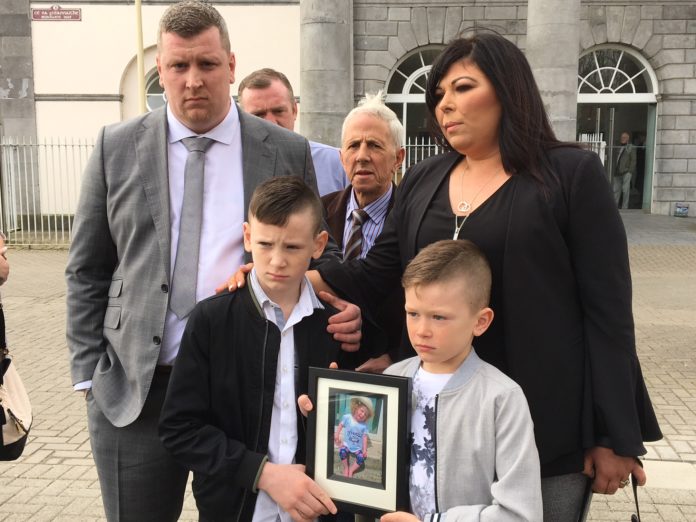 THE HSE has apologised unreservedly to the parents and family of Aimee Keogh for a breach in their duty of care to a Limerick toddler who died on the grounds of the University Hospital Limerick as a result of an undiagnosed heart condition in 2014.
Speaking outside Limerick Circuit Court this Tuesday, Aimee's father James Keogh told of how the screams of his two sons will haunt his family forever after they heard their little sister had died.
"On July 10, 2014, our lives were shattered and changed forever. Aimee was our princess who had her whole life in front of her but sadly this was stolen from her, her parents and her two brothers.
"Aimee's death should not have happened. Despite several visits to the university hospital Limerick and reviews by not only one, but by four different paediatricians, no one detected that she had this life threatening problem", Mr Keogh said in his heartbreaking statement.
The Keogh family were in Limerick Circuit Court this Tuesday for Judge Eugene O'Kelly to order that the HSE make a statutory solatium compensation payment to the Keogh family over the death of Aimee in a civil action taken by the family.
During the brief court proceedings, Michael Purtill BL acting for the Keogh family with Frances Twomey and Company solicitors, read a letter sent to them by the HSE.
In it, UL Hospitals Chief Operations Officer, Noreen Spillane said that the HSE wanted to "apologise unreservedly, for the "hurt, stress and upset on the tragic death" of Aimee.
5 March 2018,
Dear Deirdre and James
On behalf of the Health Service Executive we wish to apologise unreservedly to you and your family for the hurt, stress and upset on the tragic death of your baby daughter Aimee.
Regrettably, our investigation has shown that aspects of the care received by Aimee at the University Hospital Limerick did not reach the standards that could be expected.
Yours sincerely
Noreen Spillane, Chief Operations Officer, UL Hospitals. 
Judge O'Kelly heard that the civil litigation arose as result of HSE negligence and breach in the duty of care of Aimee Keogh. 
Little two-and-half-year-old toddler, Aimee Keogh of Glenbrook, Old Singland Road in Limerick, died after she went into cardiac arrest in an ambulance on the grounds of University Hospital Limerick on July 10, 2014 as she was being prepared for transfer to Crumlin Children's Hospital.
Following a previous admission to hospital in March 2014 for febrile convulsions caused by tonsillitis, consultant radiologist Padraig O'Brien said that after reading her x-ray, he was suspicious of a septal defect more commonly known as a hole between the chambers of the heart.
However, Aimee was never referred on to a paediatric cardiologist and further negligence occurred when a paediatric neurologist and a treating paediatrician failed to review or recognise abnormalities presented in the X-Ray, the Keogh family claimed.
For almost four months, Aimee's major congenital heart defect went undiagnosed until her condition deteriorated in the days before her death.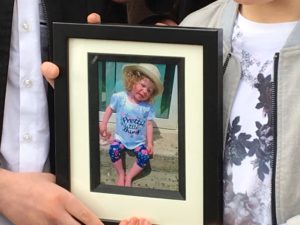 Aimee had suffered 17 seizures before her admission to hospital on July 9 and was being prepared for transfer to Dublin for a paediatric cardio echo procedure that can only be performed by a paediatric cardio consultant based in Crumlin.
An inquest into the little toddler's death heard that Aimee's case was never reviewed by a paediatric cardiologist, but paediatric consultant Annemarie Murphy, who was in charge of Aimee's case, said she found the X-Ray to be normal and a multidisciplinary team who reviewed the same X-Ray over three weeks later also found it to be normal.
At the time, there were no paediatric cardiologists based outside of Crumlin and children could have to wait up to two years to see a paediatric cardiologist.
In the short hours before her death, Aimee became an urgent case as her seizures were more frequent and not related to any underlaying illness.
Grasping at composure, James Keogh described the family's last few moments with Aimee who "was living on borrowed time.
"Whilst being transferred to the ambulance, Aimee became upset and stressed which brought on one of her seizures and she went in to heart failure while clutching her little teddy",
Aimee Keogh died a short time later despite the best efforts to resuscitate her.
"Telling our two little boys that their sister was not coming home was the hardest things we ever had to do as parents and their screams will haunt us forever.
"Aimee's death can not be in vain so we implore the Minister for Health, Government and the Taoiseach to implement the recommendations made by UHL's own internal investigation and immediately appoint a paediatrician with a special interest in cardiology and provide access to life saving technology and services which must be made available to hospitals throughout the country as a matter of urgency.
No family should have to go through the horrible and heartbreaking ordeal that my family suffered and continue to suffer each and every day.
"In this present day, it is absolutely shocking that people are dying from persons negligence, lack of care and system failures and this has to stop now", Mr Keogh added.
See more Limerick news here