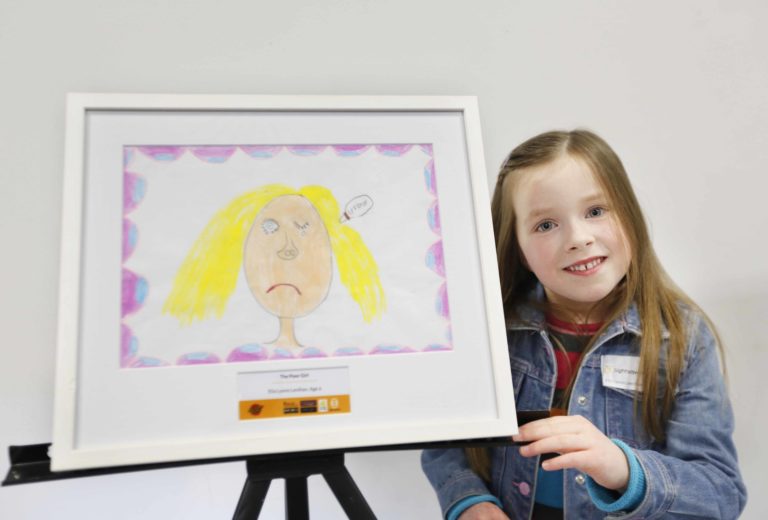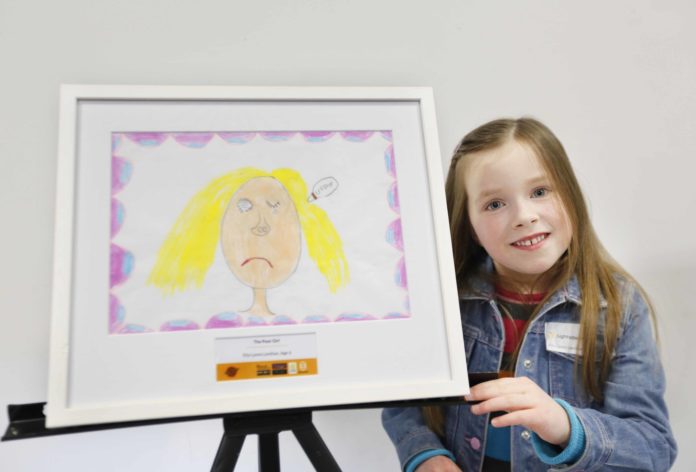 Yesterday, the winners of the Sightsavers Junior Painter Awards 2018 were unveiled in The Science Gallery, Dublin.
Competition was as strong as ever and this year's theme 'Put Us In The Picture' inspired creative entries from hundreds of primary schools across the country. Zuzanna Kaczmarowska Age 8 from Monaleen National School, Castletroy, Co. Limerick with her painting 'Blue Sky.' and
Ella Lyons Lenihan Age 6 from Monaleen National School, Castletroy, Co. Limerick with her painting 'The Poor Girl.' were delighted to be at the awards ceremony where they were both honoured as two of the 15 finalists of this year's competition.
12 year old Patricia Poprawa from Glenswilly National School, Letterkenny, Co. Donegal was announced the overall winner for her inspiring and thought-provoking creation 'Draw me in…I'm waiting.'
The judges tasked with the difficult job of choosing this year's winners were disability campaigner and little person Sinéad Burke (aka Minnie Melange), Laureate na nÓg and illustrator PJ Lynch, and artist and director of Arts and Disability Ireland Padraig Naughton. They were astounded by the calibre of entries received and especially noted the creativity, colour and effort that went into each and every painting.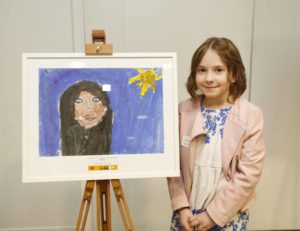 Sinéad Burke commented: "In the year that Ireland will ratify the UN Convention on the Rights of People with Disabilities, it was inspiring to see the appetite that children, teachers and communities have in exploring the nuanced conversation surrounding disability. I was incredibly impressed by the children's pairing of artistry and intellect as they approached complex topics including identity, the social model of disability, allyship and othering. However, I was most moved and inspired by how their work was rooted in empathy and that even the youngest of entries were focused on constructive solutions to how we can make the world a fairer and equal place for all."
The annual Junior Painter Awards competition was devised by Sightsavers to inspire Irish children to express their artistic talent through painting, whilst developing an appreciation of the importance and value of their sight and the additional challenges facing those living with visual impairment in developing countries.
Speaking about the competition, Olivia Lally, Sightsavers Junior Painter Awards Coordinator said: "This year we saw so many inspiring and creative entries. It was clear that all of the children carefully considered the theme 'Put Us In The Picture' and put a lot of thought and effort into their paintings. I would like to congratulate all who entered and also thank the many teachers and parents who offered their support. Working with primary schools across the country involves students and teachers in the invaluable work Sightsavers carries out – helping to prevent avoidable blindness and working for equality of opportunity for those living with a disability."
The winning top three schools receive a cash prize for their schools, sponsored by The Book Centre and Barker and Jones bookshop, and memberships and 'toolboxes' full of arts and craft materials from ReCreate Ireland.
There were 22 finalists and highly commended paintings and these will be exhibited in the DLR LexIcon (Dun Laoghaire LexIcon Library) throughout the Summer. The paintings will also be displayed in Powerscourt Town Centre, Dublin 2 for the month of August.
More local news here.