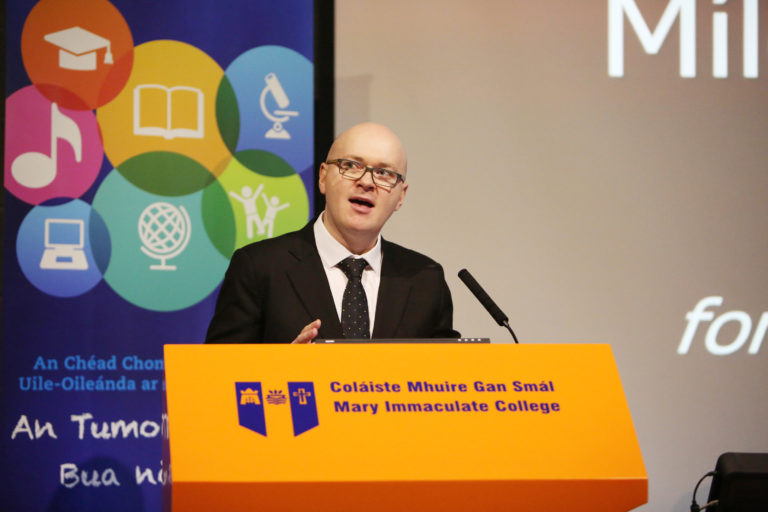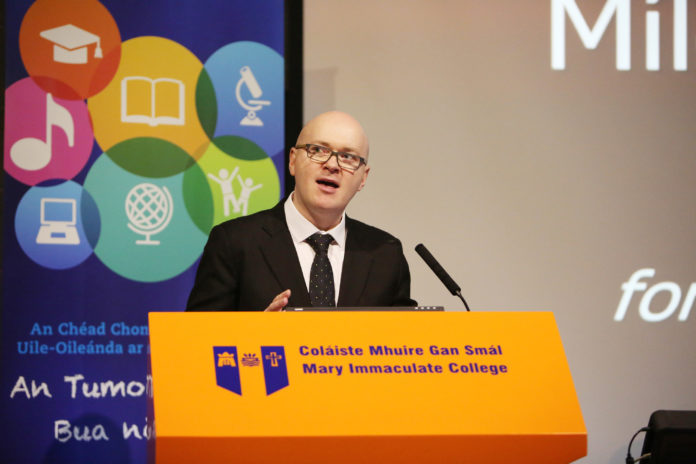 Dr T.J. O'Ceallaigh, lecturer in MIC's Department of Language and Literacy Education, was recently shortlisted for the prestigious Shannon Consortium Regional Teaching Excellence Award.
The annual award ceremony, now in its eleventh year, showcases excellence in teaching and learning within the three third-level institutes of the Shannon Consortium: Mary Immaculate College, the University of Limerick and Limerick Institute of Technology. Each institution can put forward a maximum of three candidates, who are then put through a rigorous shortlisting process based on an extensive teaching portfolio submission supplemented with a recording of their teaching.
At the award ceremony, held last Thursday in the Limerick Institute of Technology, the
eventual recipient of the award was Dr Roisin Cahalan, lecturer in Physiotherapy in University of
Limerick (UL).
Speaking on being shortlisted Dr T.J. O'Ceallaigh said: "While I have always engaged in reflective
practice throughout my career, compiling this portfolio has given me the opportunity to pause and take stock of my teaching and learning journey. This experience has not only been insightful but also invigorating and enriching. It has motivated me to continue to dig deeper, to ask the essential questions and to rethink in a quest to further enhance my scholarship of teaching and learning. Docendo discimus! I am honoured to be shortlisted for such an award."
Professor Eugene Wall, President (Acting) of MIC offered his congratulations saying: "We at Mary Immaculate College are very proud once again to have a faculty member shortlisted for this important award. Dr TJ Ó Ceallaigh is a member of staff who through his teaching and programme development, has made an outstanding contribution to the College and I heartily congratulate him on his nomination"
Speaking at the event Dr Gwen Moore, Director of Teaching and Learning, MIC, said: "The Shannon Consortium Teaching Excellence Award showcases the excellence in and dedication to Teaching and Learning in the region. Dr Ó Ceallaigh has evidenced professional excellence, scholarship and capacity for reflection on his teaching. The Centre for Teaching and Learning is extremely proud of his achievement."
This year's awards were adjudicated by an external panel comprised of Dr Rachael Carkett
(University of Bath), Dr Martina Crehan (RCSI) Dr Mark Glynn (DCU) and chaired by Dr Sharon Flynn (NUIG).
Shortlisted candidates included Dr Hussain Mahdi, Electronic and Computer Engineering,
UL; Dr Audrey O'Grady, Biological Sciences, UL and Aoife Prendergast, Applied Social Sciences, LIT.
More about education here.