Disco Legend Nile Rodgers & CHIC had the whole studio rocking to Good Times on Later Live on BBC on Tuesday night and plays two Irish shows this weekend. On Jools Holland's show the band played new track 'Boogie All Night' announcing CHIC'S first album in 25 years due in September.
Limerick Post caught up with CHIC drummer Ralph Rolle.
DRUMMER Ralph Rolle has played with a long list of music legends, Stevie Wonder, Pharrell Williams, Aretha Franklin, Chaka Khan, Usher, Prince, Lady GaGa and these day tours with Nile Rodgers & Chic.
In 2008 Ralph Rolle got a phone call to check if he could play drums for Nile Rodgers & Chic when the regular drummer couldn't cover a few gigs. Ralph was at his daughter's school at an event – but knew instantly he needed to answer this call.
"It wasn't my goal to take the gig – It was my goal to do my best," he says.
"They didn't know I was such a big Chic fan so even if I had another gig I was going to cancel it". Laughs
They sent me the live tape and I listened to the recordings. I met Nile in the studio, He played for about ten minutes packed up his guitar and he left. And I thought I did something wrong!"
But Ralph had done nothing wrong . Nile Rodgers followed up – "You sound great. I'll see you in Switzerland for the show."
After the shows, Rodgers wanted Ralph to have the gig and the drummer is very happy to be part of Chic since.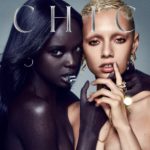 The new album, just announced, has been in the works for almost three years now since Nile Rodgers first announced he was back in the studio working on a CHIC album.
"The title of the album is 'It's About Time', explains Rolle about the long overdue release.
"There is a double meaning to that. It is also about the time in his life.
"I've heard it and sung on some of it and it sounds great."
Electric Picnic, 2009, a newly formed lineup of Chic play the festival for the first time, play Ireland for the first time. The band led by Nile, just given the all-clear from cancer, walk on stage armed with a set list of classic disco hits and a tight as f*ck band and Kimberly Davis on lead vocals.
The Electric Arena on the Saturday night of Picnic heaved to the biggest disco party the festival has ever seen – and still one of the best EP gigs in its history. Ireland's love affair with Chic still continues this weekend ten years on.
"And we love Ireland too, believe me", says Ralph.
Nile Rodgers commented on that just this week on Twitter before bringing his band to Ireland for two shows.
"We owe so much to Ireland for believing in us when nobody would book LIVE dance music."
I ask Ralph about the changes in Chic's line up since 2008 and the rise in the band's fortunes
"From the drum seat, I realised that there was a change.
"They also had a percussionist. They let him go – which streamlined the sound.
"Gerry Barnes (bass) came back and then Kimberly Davis replaced the lead singer."
"I think that is when the new sound of Chic started to form. You have heard Kimberly Davis sing? You cannot have a singer that great and not have a band supporting her that is great.
"It would be a travesty to music."
"The energy level that the band plays is very good. Our goal is to make the audience a part of the band and the band part of the audience. Every night we go out we try to accomplish that."
While on holiday in Japan, Ralph read Nile Rodgers autobiography. He got to the chapter about Nile hanging out in New York with Billy Idol and David Bowie and discovered that Nile had was an integral part in David Bowie's hit records in the 1980s.
"So I called Nile on the phone from Japan and the first thing I said was – Dude! You produced 'Let's Dance'!"
"And he just started laughing like – I guess you are the only person in the world that didn't know!"
Nile said if Ralph learned the song, the band would do it.
Laughing. "All I said is WE have to do it in the show. I didn't say I had to do it in the show but that's how 'Let's Dance' ended up being in our show."
Ralph leads from the back as it were on vocals for Chic's take on 'Let's Dance'. It is another fine addition to the Chic set that includes tracks from Duran Duran, Diana Ross and Madonna that Nile Rodgers produced.
When not behind the drum kit, Ralph Rolle has found the time to produce his own brand of cookies in New York.
The Soul Snacks Cookie Company uses a recipe that dates back to the early 1900's. The baking facility in the South Bronx is where he continues to grow and employ individuals from his old stomping ground, The Bronx River Projects. Whoopi Goldberg, Bette Midler and Jennifer Lopez are fans. Ralph is working on plans to bring his cookies to Ireland.
Ralph gave one of his inspirational and intensive rhythm section clinics at Limerick's Ballyhane Studios recently.
"Mostly, it has a life coaching element to it. I have taught people who thought they could never play.
"I promised them – I say in this one hour before you leave, I promise – you will be playing something."
"It is not so much play this beat, do this thing. It is about trying to get them to connect with who they are and their instrument."
Looking back over this ten years with Chic, Ralph says his favourite gigs have been in Japan and Ireland.
"Cork were the loudest audience that we have ever played for. The energy of the town and the people. They were up and on fire all the way."
Ralph Rollo drums with Chic at Malahide Castle, Dublin this July 16 and Live at the Marquee, Cork on Sunday 17.