THE first Respite House for children with physical disabilities and complex medical needs in the Mid-West will be a game changer for them and their families, one of the over 100 families across the region that will benefit from it has stated.
St Gabriel's Children's Respite House, a special purpose-built facility, will be located in Mungret, on the outskirts of Limerick. This state-of-the-art, six-bedroom facility is being developed at a cost of€2,481,635, with €1m already donated by the JP McManus Foundation.
St. Gabriel's has now embarked on a major fund-raising campaign – St. Gabriel's Children's Respite House is about time!' – to raise a shortfall of over €1million for the facility, construction work on which will be completed in the autumn, with an opening scheduled for the spring of next year.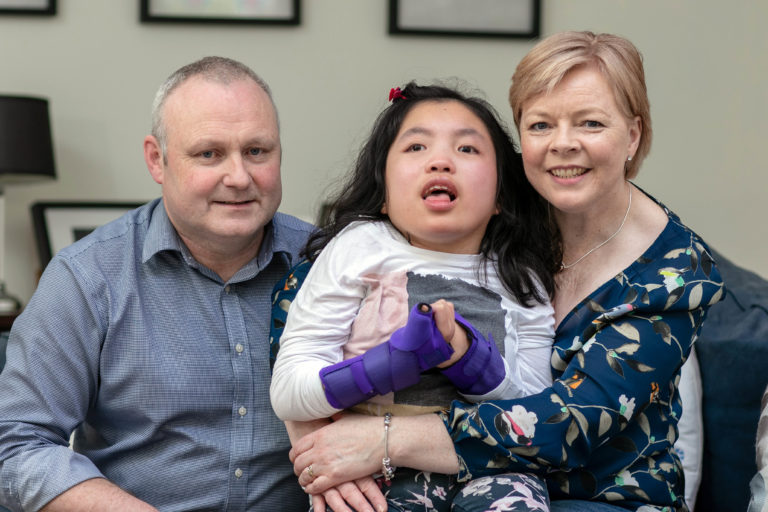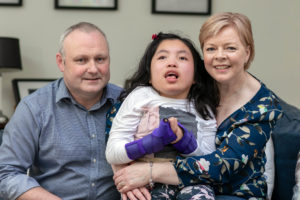 It's fundraising campaign was launched last night at the Savoy Hotel, which sponsored the event, and was attended by families with children who will benefit from the new facility, members of staff, supporters, Mayor of the City and County of Limerick Cllr James Collins, Minister of State at the Department of Finance and the Department of Public Expenditure and Reform Patrick O'Donovan and others.
Among those to address the event was Mary Quinlan, mother of 13 year-old Maia Quinlan from Limerick – the family that has generously allowed its personal story to be the case-study for the campaign in order to articulate the great need for this new facility.
Speaking at last evening's event, Mary said that at the moment, the only suitable respite facility in the country where Maia can go to is in Dublin and gave personal testimony as to how important it will be.  Maia is one of over 100 families across the region that need this vital service.
"In June 2016 I was diagnosed with breast cancer. So, for a long time I was unable physically to look after Maia, which was very difficult," she says of her own personal experience of the need for the centre.  For me, as her mum, and for my husband, who the burden of care fell to, we really needed the psychological peace of mind of knowing Maia was being looked after. And unfortunately that was probably the greatest source of stress.  If there had been a facility like the respite house available to us it would have been a huge support."
Of Maia's needs, she said,  "Maia is like a newborn baby in the body of a 13 year-old. She has quadriplegic cerebral-palsy, so she is unable to use any of her limbs. She is unable to do anything for herself.  Despite all her difficulties she is one of the best people I know. I think if you are having a bad day, all you have to do is come in and sit with Maia and you will get a lot of perspective on what's good about life.  But she does need round-the-clock care and sometimes there are other things that we absolutely have to do, whether it's for our other children or a family event, and it's very difficult to marry those demands with Maia's needs. Maia will only have three years or so to avail of the facilities as it will be for children up to 18 years but even those few years will provide precious support. We know Maia will be in really good hands there. This will be an absolute game changer for a lot of families."
Said St. Gabriel's CEO Máire O'Leary,  "From its very inception in 1961, St. Gabriel's has been about putting services in place to help make life as positive as possible for children with disabilities.  Today, St. Gabriel's provides the most advanced range of clinical therapies and interventions for over 600 children.  St. Gabriel's Children's Respite House is another stage of its advancement.  It's a place for children to call their 'home away from home', their club, their getaway. It will be their own special space.
"We will have the most experienced nursing and health-care staff in place to give the type of specialist care these children need, a level of care normally only provided by their parents or an acute hospital. We know the huge demands and stresses on parents who care for their children 24/7.  However, from speaking to these parents, the families want to care for their own child in their own home but need a little support from time-to-time to help them cope and recharge.
"These parents give their children incredible love and care around the clock but they also have other aspects of life that need their attention and time; simple things such as tending to their other children's needs, and, perhaps, as with Mary's courageous story, their own health.  St. Gabriel's Children's Respite House will enable all of this."
Ms O'Leary thanked the JP McManus Golf Pro Am committee for their incredible support to the project, without which this hugely important facility for the region would not be developed and said that St. Gabriel's is now turning to companies, business and organisations and the general bridge the capital funding gap.
"St. Gabriel's has had a tremendous can-do spirit over the years but it could never have become what it is without the support of the public and local business community.  We are getting very positive feedback about this project and our first pledge has come in from Limerick Twenty Thirty, which has committed to buying an overhead hoist for a bedroom to assist with lifting children.
"We also want to thank Mary & Pat Quinlan and their family for stepping forward to be the face of this campaign.  They have an incredible story of love and devotion to Maia but they are also a perfect example, representative of hundreds across the region, of a family that still needs this type of facility so badly."
Said Mayor of the City and County of Limerick Cllr James Collins:  "I know I'm not alone when I say St Gabriel's holds a very special place in my heart.  I have had the great privilege of seeing first-hand the wonderful work St Gabriel's School and centre have done over the years locally in Dooradoyle.  As St Gabriel's embarks on this new chapter, I am excited and filled with hope. Now the dream of St Gabriel's Respite House is finally coming into view the great need for it becomes all the more apparent."
Said Minister of State at the Department of Finance and the Department of Public Expenditure and Reform Patrick O'Donovan:  "I know from personal visits to St. Gabriel's School and Centre and meetings I have had with them the incredible work that they do for young people in this region with complex physical and medical needs.  This respite house is another evolution of that.  But hearing the story of Mary Quinlan and her family, whom I really want to compliment for their courage in allowing that story to be told, really brings home how absolutely essential this centre is. It will, indeed, as she says, be a game changer for over 100 families across this region and we all need to get behind it."
Those wishing to donate to the campaign can do so by contacting:  Kate Sheahan, ksheahan@stgabriels.ie.