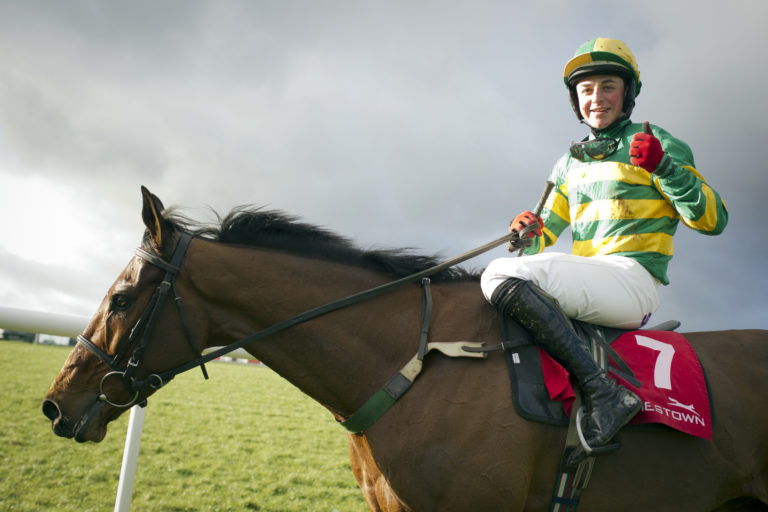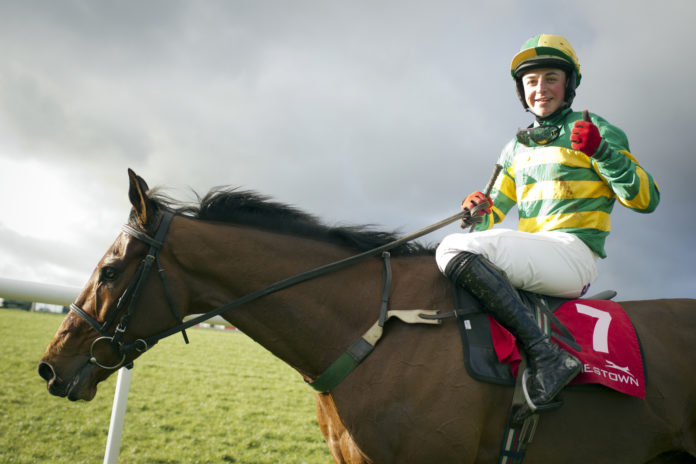 by Gerard Mulvihill
sport@limerickpost.ie
MOST jockeys dream of riding a winner in the colours of JP McManus. The green and yellow hoops are perhaps the most recognisable silks in National Hunt racing and are generally carried to victory by jockeys with years of experience.
Yet for Herberstown native Donal McInerney that dream was realised aboard his very first winner. That victory came in February of last year as Auvergnat claimed the PP Hogan Memorial Cross Country Chase at Punchestown.
It was a momentous occasion for McInerney and those closest to him and it's a victory that will have meant a great deal to Bruree-based trainer Enda Bolger who credits the late PP Hogan as one of the biggest influences on his training career.
Herbertstown is just a 20km drive from Bolger's Howardstown House training establishment and it is there that McInerney is based three mornings a week. He began riding out there as a 15-year-old, at which point he succumbed to the racing bug.
Bolger's isn't an average racing yard. It's one of unrivalled individuality with a sand gallop that surrounds a course decorated with banks and cross county fences. Young riders are given the opportunity to ride over these obstacles and McInerney is adamant that this has impacted greatly on his riding.
"Working there you see more than a normal lad starting out. Every jump is different down there and it has made it easier to spot a stride."
Like the horses beneath them, daily access to the banks allows jockeys to become accustomed to the technique required to successfully negotiate them. A good banks runner needs to be able to get their stride right as they are required to jump onto a bank and off again in a quick succession.
The fact that both horse and jockey were lovers of the banks was abundantly clear as Auvergnat tackled the obstacles with consummate ease to claim victory in the La Touche Cup at Punchestown in April. In doing so McInerney provided Bolger with his 14th success in the race.
It was also a special victory for the jockey who collected Champion Conditional title at the festival's conclusion. He had seven wins to spare over his nearest challenger by the season's end but it was a late season surge that ultimately made the difference.
"It was great to get it. I didn't think at the start of the season that I was going to be Champion Conditional. As we were getting towards the end of the season and I was still behind JJ Slevin, I decided to give it a good rattle. Thankfully it all worked out."
It brought with it vindication for McInerney following his decision to turn professional in a bid to carve out a career in the riding ranks. It was a move made with the guidance of Bolger.
"I wasn't getting many rides in point-to-points so it was either that or give it up and go to college. Enda told me he thought I should give it a go as I had nothing to lose."
He was cognisant of the fact he could return to the amateur ranks as long as he had not passed the 25 winner mark. The security of having a Leaving Cert to fall back on also made the decision an easier one.
The concluding weeks in the race for the Champion Conditional crown could well induce a great sense of pressure for many riders but not so for McInerney.
"I'd be fairly laid back now to be honest", says the rider who has enjoyed a nice spin off effect to last year's success. A number of owners and trainers for whom he hadn't previously ridden are looking for his services this term.
"It's mainly the same fellas I'm riding for but I'm picking up some more outside rides too. It's a bit tougher since I dropped to a three pound claim but I guess that was always likely to happen."
His focus now is on retaining the contacts he has built up as he moves ever closer to riding out his claim. The number of winners he needs to become a fully-fledged professional has now fallen below 20. Achieving that feat may be his primary objective this term but McInerney admits he "wouldn't mind riding above the number of winners I managed last season."
Riding a winner at the Galway Festival would help him achieve that objective and he would love a spin in one of the bigger races too. "I wouldn't mind getting a ride in the Plate or the Hurdle. That would be some thrill."
While that would represent an ideal festival for McInerney, it's quite clear he is just happy to be in a position to ride at such a big event.
"It's all good vibes at Galway to be honest; I couldn't take any negatives from it. I get a great thrill from hearing the crowds there."
And hearing the crowd roar him home on a winner this year would perhaps represent the greatest thrill of all.
The Galway Races Summer Festival runs from Monday, July 30 to Sunday, August 5 with live TV coverage Monday to Thursday.