THE Foynes Air Show brought thousands of spectators to the west Limerick village last Saturday to witness awe-inspiring and daredevil acts by 23 of the world's most iconic aircraft.
One of the biggest visitor events along the Wild Atlantic Way, the Foynes Air Show is estimated to be worth more than €750,000 to the local economy, and forms part of the IAA's #AviationIreland weekend, along with the Bray Air Display.
The sun came out just in time for spectators to see the supersonic attack aircraft the Saab Viggen also know as Thunderbolt open what proved to be a memorable display of aviation superlatives.
The Irish Air Corp made its inaugural appearance at the west Limerick show, with two Casas flying in formation, followed by a spectacular display by the PC9s.
The Irish Historic Flight Foundation's flying Chipmunk aircraft entertained and enthralled while the striking presence of the DC3 brought some of the more mature viewers back to a golden era in aviation.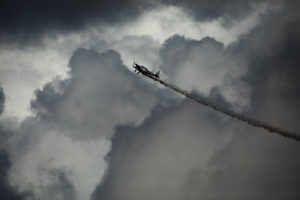 Richard Goodwin in his Pitts Special, and the Strikemaster Flying Club (SFC) from North Wales keep the eyes on the skies as local pilot Gerry Humphrey's entertaining spectators in his bovine-themed aircraft.
Back on ground level, internationally renowned circus acts entertained the crowds as a carnival atmosphere took over the maritime town.
Air Show Festival Director Margaret O'Shaughnessy described the event as a celebration of the strong and proud aviation history of Foynes, Limerick and the Mid West region.
"It is a huge undertaking for Foynes and Limerick, but it has proven to be a massive success every year. It originated as a day for families to enjoy and celebrate Foynes and its place in the aviation world, but has grown to be so much more.
"The Air Show has helped to cultivate a worldwide understanding of Foynes and its history, while showcasing what Limerick has to offer as a tourism destination. It is also of huge benefit to the local economy."
"More than 200 bed nights were booked directly by organisers in hotels and local B & B's in Limerick City, Adare, Rathkeale, Glin and Foynes and feedback from local accommodation providers is that there was a huge peak in business as a result of last year's show," said Ms O'Shaughnessy.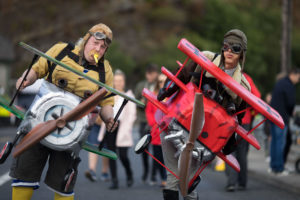 "It has also helped promote an interest in aviation in general, which is an important industry to the mid west region. It also promoted Foynes, Limerick, and the Wild Atlantic Way as a top destination for domestic and overseas visitors.
Irish Aviation Authority (IAA) chief executive Peter Kearney said that Foynes has played a pivotal role in the history and development of aviation in Ireland.
"With its central role in the promotion and development of aviation in Ireland, the IAA is delighted to have supported the Foynes Air Show, enabling the high-quality and spectacular displays that were seen on the day," he added.
by Tom McCullough
[email protected]