PowPig played their debut show in September 2017. In a few short months and on the back of two well received EPs, the Limerick four piece played the Body & Soul Festival in May in a prime late night slot.
It has been a rapid rise in good fortune for the girls who are sill in secondary school and facing into Leaving Cert exams in 2019.
The band formed in the summer of 2017 as part of the Limerick Music Generation project. Limerick Post caught up with PowPig – aka Anna Marie Rooney, Andrea Mocanu, Laura Drennan and Leah O'Donnell before their show in legendary Galway venue Róisín Dubh last Thursday.
"We met up through Music Generation," explains Anna.
Andrea and Anna were in the songwriting group and met Leah who was already writing songs.
"We were really, really bad for ages!" laughs.
"Eventually we thought, one or two songs were good enough. We should make this into a band. Then we got Laura involved – and the rest is history!!" laughs.
PowPig's debut EP arrived in all its ragged punk glory and creative abandon in August 2017 with Windings main man Stephen Ryan on recording and mixing duties.
It is smart and funny stuff with songs about Sticky Teeth and the terrific shouty 'Birds of Paradise' with the more contemplative piano driven 'Rosalee' being a more reflective moment, showing a quartet that is not tied to one genre.
Even the band were a little taken back by the reaction and positive reviews for the 'Denture Adventure' EP.
"All we thought would happen is that we would play a gig at Chez Le Fab and then everyone would forget about us. We were practising for about a month – that went really well."
"Since we released the first EP, it has been so surprising and people have been so supportive and really helpful and stuff."
All four girls contribute to the songwriting. They collaborate and everyone brings something different to the PowPig melting pot.
"Everyone is an individual songwriter which is why I think our music is so diverse," adds Laura.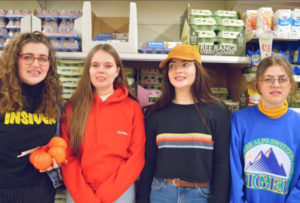 Limerick Music Generation and tutor Stephen Ryan have been a huge influence in bringing the band together and allowing their craft to develop, giving a space to practise, opportunities to record and advice on gigs and good contacts.
"They have been hugely helpful." They have been so encouraging and helped us to record Denture Adventure."
PowPig and other young Limerick acts have benefited from the experience within the musicians associated with Music Generation, members of Choice Music Prize-nominated Windings, Protobaby, Givamanakick and of course, Choice Prize winners Rusangano.
Without the help and guidance of Limerick Music Generation and musician/ tutor Stephen Ryan, the band wouldn't be playing music together, the girls explain.
"Steve showed us everything and was very accommodating. We wouldn't have anything recorded if it wasn't for Steve or Music Gen."
"If there is anything that we are unsure of when people give us offers of gigs, we can always ask them because they know."
Music Generation Limerick and promoters DIY LK and Seoda Shows have been on hand to organise gigs and include PowPig on the lineups.
"Everyone is so lovely and willing to help out. We couldn't have asked for a better community."
The girls say that Music Generation has been instrumental in organising and bringing the Limerick music community together.
"Especially for teenagers!
"Before that there wasn't a place you could go on your own to meet new people. It's really great to bring people together from different backgrounds."
PowPig join a very impressive lineup for The Seoda Shows Summer Party happening this Saturday August 11.
Three members of the band face into their Leaving Cert year in September so this weekend might be the last chance to see the band for while.
"It is going to be kinda hectic. We will be cutting down on gigs, but we still want to record whenever we can."