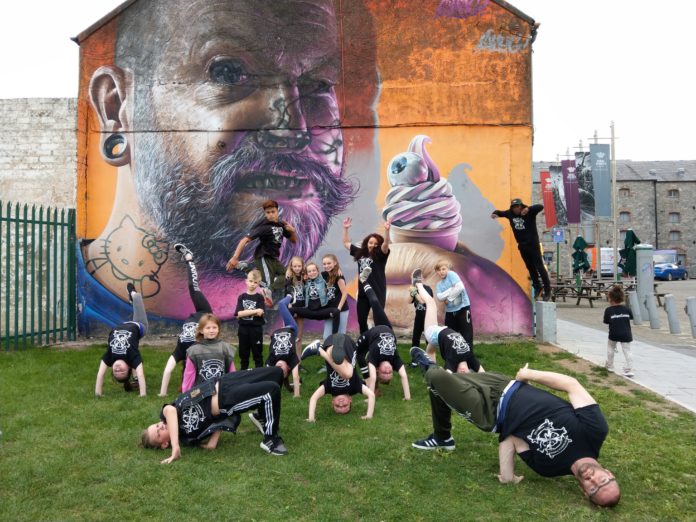 "Not every kid wants to play hurling and soccer and rugby. They want to try and do other things and find different ways to release that negative energy and I think hip-hop, in a way, saved me. It saved my life."
These were the words of Joseph Kennedy, Limerick based graffiti artist and member of hip-hop group, the Limerocker's Cru, as he reflected on the importance of hip-hop on its 45th anniversary.
Founder of Limerocker's Cru, Barry Burke, explained:
"I use hip-hop dance as a tool to break the mould, reach out to kids on a social level and get them involved in positive activity for their own mental well-being because I would have my own personal history within the mental health area as well."
Three members of the Cru spoke candidly of their own personal mental health issues and how hip-hop helped them rise to the surface.
Kennedy said when he was in school he didn't feel connected to any of the activities that were on offer for students. It was only until he found hip-hop that he truly felt a part of something.
"I was already skate boarding and then I got into rapping, break-dancing and graffiti because I was into art," Kennedy said. "It made me become more humble and stop partying, become sober, fix a lot of things that I was going through – my own struggles, mental health problems."
Angelo Cris Bangay, a Limerocker's Cru member, recalled his first day at Burke's hip-hop classes.
He remembered looking at the other dancers and thinking: "I could never amount to what they are doing now." He described the effect hip-hop had on him as a youngster:
"It brought more self-awareness and it bettered me health wise because I was bullied before I got into dancing. I just stayed at home for a good 2 years. But once I got into it, I got a bit more social and started going out more."
Angelo and his cousin, Lance Lot, both started Burke's classes together and both admitted they were overweight at the time.
Lance, who was 12 when he first attended the class, said:
"I was obese when I started and I had no confidence whatsoever. When I started this – it basically changed my whole life around."
Although the boys lost weight from starting their hip-hop journey, Burke explained it's not purely an exercise:
"This is about nourishing your soul every day and it just so happens there's physical benefit as well."
The Mayo born dancer and Limerick School of Art and Design graduate spoke of his dance background. He explained he, like many other people, was an introvert and did not dare attend any dance classes when he was younger. He opted instead to practice in his bedroom.
He said he noticed that the people who attend his classes, and particularly the adults, are much like he was when he was younger – self-conscious and afraid of judgement.
"A lot of kids, and especially adults, are terrified of being looked at or being judged in front of other people. Just enjoy the environment and the music, sit down, relax – it's not that serious. No-one is going to care, you could be the best in the world or the worst in the world, you are still as welcome as anyone. We are all here to have a bit of fun."
The Limerocker's Cru classes are open to all ages however Burke explained:
"It's getting younger and younger. Some of the kids are flying at the age of 3 and 4 years old. The level is crazy. They're better than grown men who have been doing it for 20 years."
"It's gotten to that level now that it needs to be more recognised like it is abroad."
Asking why the Irish government is not getting behind hip-hop dancing and the hip-hop culture, Barry responded that the government is just not educated and open enough. He added that although there are many classes that teach hip-hop, they are not teaching the real essence of the culture.
"They might teach some choreography, fair enough, but they don't actually teach hip-hop, which is the culture and knowledge mainly first and then the skill set, which is a whole different level to what most of these dance schools teach."
Burke explained:
"Hip-hop is a culture like any. There's art, culture, dance, poetry.
"Something happened organically in New York in the 70's from the poverty and the troubles at that time. It brought the youth together in a different way.
"It was an outlet for kids to do something because they had no money and so they started to create their own dance. Their way of communicating was through parties."
Burke said it is often the press that drives the negative image of the hip-hop culture and this negative perception is exactly what the Cru is contending with.
"It always has a rebel image which isn't the image of hip-hop at all.
"It's pretty much the opposite. It's to get people away from anti-social behaviour and activities."
Kennedy added: "If you look at the very start of hip-hop it means love, respect, unity, coming together. Hip-hop was always about just having a party together. There was no drinking, there was just dancing, DJing and having fun."
Burke does not receive funding and said that everything comes out of his own pocket. Unlike so many in this country, money is not Burke's driving force. He spoke to the Limerick Post about the "false sense of recovery" and how the recession is still wreaking havoc on many of the families who attend his classes.
"I have agreed to let them pay at their own pace because, for me, it's not about money. For me, I'd prefer to have a child in with me than outside the door.
"Most established schools would close the doors if you don't pay your term or 6 months up front and waiting lists are the length of your arm. What do you expect these kids to do in the meantime?"
Click here for more community news.