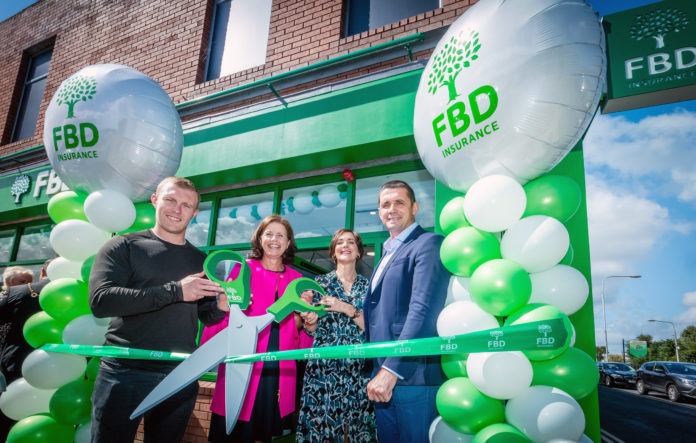 FBD Insurance Limerick Sales office has opened the doors on its new home at Unit 8C in the Parkway Shopping Centre on the Dublin Road.
The office move is part of FBD Insurance's overall strategy to increase the level of service and accessibility of local sales offices for their customers.
The spacious new office is home to the same faces FBD Insurance Limerick customers are acquainted with and will continue to offer the same great service, same great protection, just from a great new location.
To celebrate the office opening, customers and friends of FBD Insurance Limerick were invited to an event in the office where Munster rugby legends Alan Quinlan and Keith Earls, Limerick branch manager Assumpta Leahy and CEO Fiona Muldoon cut the ribbon on the front door to mark this occasion.
Speaking at the opening, CEO Fiona Muldoon said, "We are delighted to be opening our newly located Limerick sales office here at the Parkway Shopping Centre and wish to thank our special guests, customers and friends for coming along to mark this occasion.
"FBD Insurance is a local insurer and an insurer for the community, which is why we are committed to giving existing and new customers the best service in their own locality so that they can reach us when needed. FBD is a brand they can trust and we are fully invested in growing in vibrant Limerick city and county."
FBD provides tailor-made protection for small and medium business owners, farmers and associated agricultural businesses alongside general car, home, life and pension insurance through specialised experts.
"Having recently opened our 34th local sales office in Dublin, we want to show our customers that as Ireland's largest indigenous insurer, we are committed to doing business with the small business sector, the agricultural sector alongside car, travel, home, life and pension insurance needs for all consumers," Fiona Muldoon continued, "FBD Insurance has been part of Limerick communities for 50 years, and we will continue to respond to our Limerick customers' needs and support Limerick businesses and farms as a vital part of the Irish economy."
"Our Limerick Manager, Assumpta Leahy and her team look forward to welcoming both existing and new customers to our new Limerick Sales Office. Customers will always be able to speak with the same friendly and experienced team they already know, just in a great new location."
FBD is Ireland's largest indigenous Insurer, looking after the insurance needs of business owners, consumers and farmers throughout Ireland in branches, online and by phone. It has an established nationwide network of 34 sales offices and a Sales Service Centre in Mullingar.