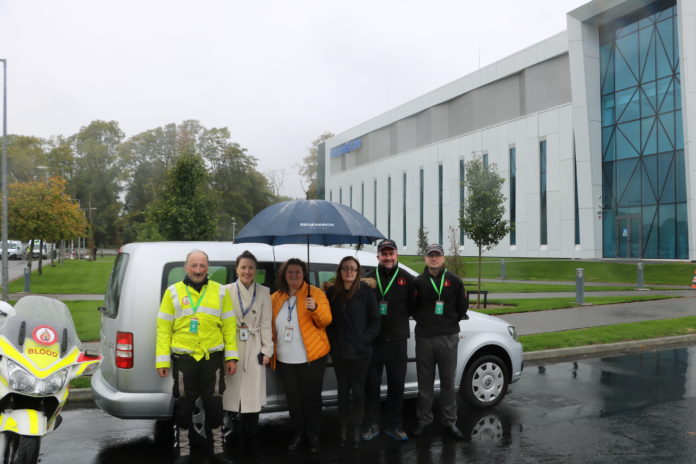 SCIENCE and technology company, Regeneron, has donated a company owned Volkswagen Caddy van to a Limerick-based charity, Blood Bike Mid-West.
The donation, which was the result of a request by Regeneron employees Elaine O'Connell, Senior Quality Control Specialist and David Considine, Warehouse Associate, will allow the charity transport samples and medical equipment to-and-from hospitals, hospices and patients across the Midwest region.
Blood Bike Mid West transport urgently needed blood products, patient records, breast milk, scans, and tissue samples among other medical requirements by motorcycle across the Mid West region.
Brendan Caffrey, Chairman, Blood Bike Mid-West said, "The donation of this van from Regeneron will allow us to continue to operate at full capacity this winter when adverse weather conditions will make transportation by motorcycle unsafe.
"We operate a 24/7 Emergency call-out service using volunteer riders and drivers and we don't charge for the service. 100% of all funds raised go towards the running of the charity and we're very grateful for our volunteers who are unpaid and give up their time for free.
"We would like to thank everyone at Regeneron who made this happen, especially David Considine and Elaine O'Connell. On behalf of everyone here in Blood Bike Mid-West, thank you."
In addition to transporting supplies within the region, the charity will use the van to transfer supplies to the Blood Bike's sister organisations for distribution throughout Ireland.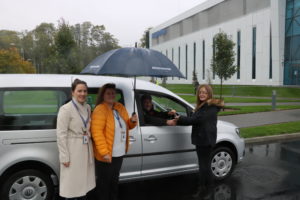 Niall O'Leary, Vice President and Site Head, Regeneron Raheen said, "We are delighted to see the van being used to ensure essential life-saving supplies reach the people who need them in the Mid-West and throughout Ireland."
Elaine O'Connell, Senior Quality Control Specialist helps fundraise for Blood Bike Mid-West said, "Like Regeneron, the blood bike group is dedicated to 'doing well by doing good' and making a difference in people's lives. I love the connection I have with changing patients' lives as a Blood Bike Mid-West fundraiser and as a Regeneron employee. It's what we do best."
Regeneron's state-of-the-art Industrial Operations and Product Supply (IOPS) facility has been operating in Raheen Business Park, Limerick since 2015 and currently employs more than 800 people.