PROBABLY the greatest formal hymn to peace written in the 20th century is 'The Armed Man', the eloquent mass composed by Karl Jenkins. Limerick Choral Union has chosen this majestic work, rich with brass and percussion and oratorio, for their Christmas concert on Saturday December 8 at UCH, 8pm.
Limerick Choral Union's chairperson Lorraine McMahon was among the 40 or so choristers invited to sing 'The Armed Man' with an international choir of 2000 singers and orchestra of 120 in Berlin for WW1's Armistice centenary.
Sign up for the weekly Limerick Post newsletter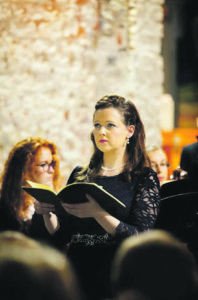 "Karl Jenkins led the concert and it really was something extraordinary," she says of the commemoration which took place in the Mercedes-Benz Arena. "On screen behind us was a video roll of the troubles of the century, from World War 1 to the (Holocaust) camps to the Twin Towers and more, ultimately leading to peace – 'The Armed Man' is a mass for peace. A lot of Limerick Choral Union people will be looking forward to performing it after that experience."
Lorraine goes on to remind us that it was 2010 when LCU last did this work in full. Furthermore, they invited Jenkins himself to conduct them. He did so, confirms Arts Page, and it was a wonderful concert night, resonant in the mind and soul since.
"This year we have amalgamated with UL Orchestra who are a great body. They are very professional and it's nice to use Limerick groups now and then. Mary Immaculate College Choir of 30 will join with us so we'll have 170 singers on stage."
Limerick mezzo soprano Sarah-Ellen Murphy will make a glorious soloist, joined by 12 year-old Daniel Ryan singing the Kyrie – novel. Malcolm Green has authority over the Jenkins' half of the concert night.
The first half will be UL Orchestra playing the upbeat Polovtsian dances by Borodin, with the experienced Liam Daly conducting.
A last word from Lorraine McMahon on how the finishing notes will sound. "'The Call to Prayer' will be a completely a capella piece and will be sung from the balcony, out of sight of the stage and audience. The last call of the trumpet will be from the balcony as well."
Book any ticket that may remain for www.uch.ie