IT IS HARD to credit that five years have passed since Limerick was City of Culture 2014 for Ireland. Out of that monied zenith to boost arts and culture productivity in the community and professionally, and to raise Limerick's profile in Europe, rose 'The Limerick Film Trilogy'. Limerick Film Trilogy is one of the legacy projects required of the 11 or so pillars to the City of Culture charter.
Now you can watch the clutch of three short features Made in Limerick on the Vimeo platform (no subscription required).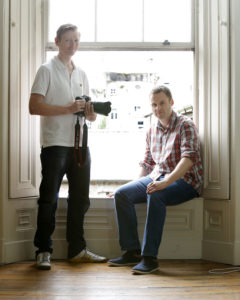 Trilogy is comprised of 'Day Off' with actors Dawn Bradfield from 'The Clinic' and Joe Mullins of 'Pilgrim Hill'. Comedy wheeze 'The Apparel' secured the long established Andrew Bennett of 'Angela's Ashes' and 'Game of Thrones' Aidan Crowe.  The gentle 'Date: Time' saw a rom-com played out by local actors Erica Murray and Mark Griffin – who was a significant professional behind the scenes for each production and worked on casting.
The combined budget for production was just €10,000 and RTE screened them first in the Autumn of 2016. Interestingly, seen together, they acquire another dimension in that they complement each other as a significant whole, as much as they differ.
Film was one of the pillars supporting the concept and then the operation of City of Culture. Film Limerick became the managing company for funds available. It was headed up by documentary maker/ sound technician Ronan Cassidy ('No Words Needed: Croke Park 2007'; and 2011's 'Munster Rugby: A Limerick Love Affair').
Limerick Film Trilogy is the outcome of the training/ mentoring/ legacy requirement for the investment of monies and elective help by established professionals. The directors are Stephen Hall for 'Day Off' – written by Peter McNamara; Peter Delaney for 'The Apparel' – written by prize winning novelist Daniel Mooney; and Paul Corey for 'Date: Time'- written by Philip Shanahan.
Each work was made in partnership with Behind the Scenes network and received assistance from Screen Training Ireland to set up these first time directors in business, as with the first time writers and a mixed technical crew.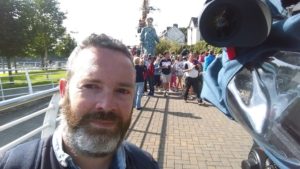 Ronan Cassidy worked as producer. Limerick writer and director Gerard Stembrige gave his time and expertise freely as a principal mentor.
"Gerard Stembridge selected three writers and worked with these writers individually to make each script as good as it could be," reports Ronan on the January online release of the Shorts. "He also took an overview, looking for connecting features and elements that would create links between the stories.
"The writers were given maximum freedom to tell whatever story they wanted to tell. The stories had to be contemporary and preferably unfold within a limited time period and Limerick City itself was to be evident as the backdrop. The use of locations in the city is therefore at the heart of each of the films. Even though the films are quite separate stories and work as stand-alone films, seen together they are subtly linked."
Another mentor who gave his services freely is career editor Simon McGuire. Teaching at Limerick Institute of Technology, he had helped set up the Creative Broadcast & Film Production degree and founded Limerick Film Festival which has since rolled into October's Richard Harris International Film Festival.
"Trilogy was a huge project," confirms McGuire. "There was the bones of a year in it as we were working with three different writers and three directors and films. Yet the films are intercut with different parts. Each had their own real characters and protagonists but there is another character to them and that is the City itself.
"The actor Seán Flynn [location manager for some City of Culture films and many others] is in all three stories as a tramp – he has no lines in the first two films but has a few in the last. Different protagonists have interaction with him. What we were trying to make were three different films but all intercut."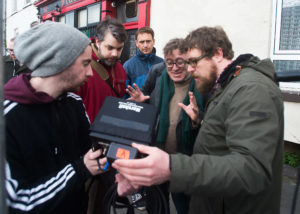 Hence marathon weekends – unpaid – at the editing suite in LIT and many late nights for the team as writers, sound recordists, directors, assistant directors and editors got their ducks in a row.  Getting people to produce sound effects such as a telephone ringing was another challenge, as was trying to meet deadlines while Simon and other working professionals were busy with their paid contracts. He saw to it that opportunities were given to trainee editors from three third level institutions in the region and one such graduate Patryk Czekalski has gone on to work on the BBC drama 'Mrs Wilson'.
Simon also makes the point that Mark Griffin, ex LCFE and now with LIT, was fundamental to the project's success. Other significant credits: director of photography Patrick Jordan ('Volkswagen Joe' and 'The Young Offenders') oversaw the camera crew.
Watch Limerick Film Trilogy for the satisfaction of spotting well known faces such as Myles Breen and model Madeleine Mulqueen, the familiar backdrops and most of all, how accomplished the storytelling is in the confines of time and €3,333 funds each.